Monday June 2, 2008
"Can anybody f#@*ing play out here?"
– Danny Hall, during Monday's 7th inning mound visit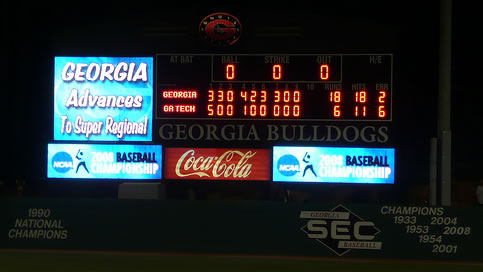 Thoroughly unimpressed with the accomplishment of the Georgia basketball team, the Georgia baseball team demonstrated this weekend just how easy it is to win 4 games in 3 days. Georgia completed the comeback by winning four straight games through the loser's bracket, and they finished off Georgia Tech 18-6 in Monday night's regional championship game. Georgia's hot bats were aided by six Tech errors, and Bulldog pitching allowed just one run after surrendering five to the Yellow Jackets in the bottom of the first inning.
With a loss already against them and drifting dead in the water against Louisville, the Diamond Dawgs shed a May malaise with one swing of Gordon Beckham's bat. In the 30 innings since that pivotal 7th inning against Louisville, Georgia has scored 47 runs. They won the final three games of the regional by a combined 40-9 margin.
Matt Olson had already cemented his place among the great Tech beaters, but the Athens Regional MVP one-upped himself with a freakish 18-26 (.692) batting performance over the weekend. That total included seven hits over two elimination games against Georgia Tech. It says something about Olson's weekend that Bryce Massanari, in the middle of a 13-game hitting streak, was overshadowed.
As much as I can go on about the hitting, the story of the weekend had to be Georgia's pitching depth coming through. Regular starters Stephen Dodson and Trevor Holder struggled on Friday and Saturday. Even reliable closer John Fields wasn't himself on Saturday. But beginning with Dean Weaver's solid middle relief against Louisville, the pitching settled down. Nathan Moreau and Justin Earls followed it up with strong showings against Lipscomb. Nick Montgomery's complete game shutout of Georgia Tech in Sunday's nightcap was the outstanding performance of the regional.
Montgomery's outing on Sunday let Georgia get to Monday's championship with plenty of arms on the bench, and they would need most of them. Starter Justin Grimm failed to record an out during a disastrous first inning that saw Tech turn a 3-0 deficit into a 5-3 lead. Alex McRee quickly settled things down, and he would hold Tech at bay allowing just a single unearned run in the 4th. Weaver was brought in for the 5th, but he took a wicked shot off his pitching arm and had to leave the game after facing just one batter. His condition and availability for the rest of the season is unknown.
With Weaver out the Dawgs turned to Will Harvil, and Harvil became the latest Bulldog to make the most of his opportunity. Harvil allowed no runs and just three hits over four innings while the Bulldog offense built its lead. Josh Fields finished the job in the 9th, but the issue was no longer in doubt then. After the first inning it looked as if we were in for a high-scoring shootout, but Georgia's middle relief of McRee and Harvil made sure that the scoring was one-sided.
Naturally a win like this over Georgia's rival carries added significance. The season series, led by Tech after the regular season, now finishes 3-2 in Georgia's favor. It's the third time this decade that Georgia has ended Tech's postseason. Even bigger, the Dawgs are now 15-0 in elimination games at Foley Field.
With another emotional regional and a draining march of five games in four days, Georgia will have to come back to earth quickly. N.C. State will be coming to Athens for the Super Regional this weekend, and they are as good as any team Georgia faced during the regional. The Wolfpack were 18-11 in the nation's toughest conference, and they are 41-20 overall. N.C. State swept through their Raleigh Regional with a 3-0 record and eliminated South Carolina to advance to the Super Regional.