Wednesday April 25, 2007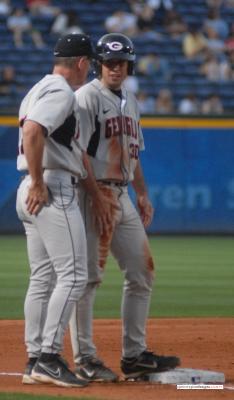 "Matt Olson just absolutely killed us," Georgia Tech's Danny Hall said.
When a Tech coach can say that about a Georgia player, that Dawg earns a special place of esteem here. Olson led the Dawgs with 6 RBI last night in a 10-7 win over Georgia Tech at Turner Field in front of over 21,000 fans. He got the scoring going with a bases-clearing 3-run double in the first inning and then added key insurance runs later in the game as Tech made pushes to cut into the lead. His 5th-inning home run extended Georgia's lead to 7-3, and Tech wouldn't come within three runs again. Olson finished with a single, two doubles, a home run to dead center, and a stolen base.
Georgia hasn't had a great season. Without an incredible turnaround, they seem unlikely to qualify for the SEC Tournament as one of the league's top eight teams. They seem even less likely to earn an NCAA Tournament bid. With those goals slipping away, kudos to Coach Perno and the guys for coming through in one thing they can still win: the season series with Georgia Tech. Tech took the first game of the season series 8-2 in Atlanta last week, and it wasn't pretty. Georgia's response at Turner Field was very encouraging. It wasn't the cleanest of wins; Tech made plenty of mistakes – including walking the first three Georgia batters – and the Dawgs had some shaky pitching of their own at times. Josh Fields closed the game and induced a game-ending double play with the tying run on deck.
We'll take the win. When the biggest problem this year has been offensive production, a nice outburst against your top rival in front of one of the biggest crowds to see college baseball this year is tremendous. Georgia is now 5-1 against Tech in the annual benefit game at Turner Field for Children's Healthcare of Atlanta, and they are 14-9 overall against the Yellow Jackets since 2001.
Olson reminds us that a win over Tech last year started a 12-game winning streak. A repeat of that streak is almost Georgia's only shot for a postseason at this moment.
The Dawgs won't have much time to enjoy the win, and the one-game winning streak will be tested immediately. Georgia travels to play Western Carolina tonight to make up a game canceled by weather earlier in the season. They lost 3-1 to the Catamounts back in March. Then it's off to Kentucky for a weekend series with the Wildcats. UK isn't as strong as they were last year and are just a game and a half in front of Georgia. With series coming up against strong Vanderbilt and Mississippi State teams, Georgia has to get some results in Lexington to have any chance.
Tech and Georgia are scheduled to meet again on May 9th in Athens to decide the season series. Watch that day for rain, a cloud in the sky, or even an especially good episode of Battlestar Galactica. If you're at all familiar with this series, you know that the scheduled game in Athens has been conveniently canceled a couple of times in recent years.