Friday December 21, 2007
It's been a great 2007 in Georgia athletics, and we begin a look back with – wait for it – the highlights of January.
January 3: Notre Dame was waxed in the Sugar Bowl. It would be the highlight of 2007 for the program.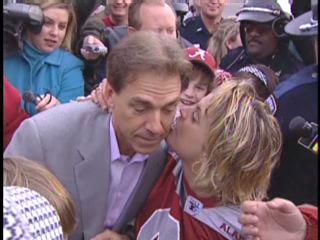 January 5: Nick Saban arrived in Tuscaloosa. Soon the world would be introduced to Alana Colette Connell.
January 8: Stacy Searels was hired as Georgia's new offensive line coach. The former Auburn lineman chose Georgia over an offer to join Nick Saban's fledgling staff at Alabama. Though the addition of Searels was universally praised from the beginning, no one could have imagined how well it would go. Faced with only two returning experienced scholarship linemen, the Dawgs approached the season with a "fake it till we make it" outlook up front. By the end of the 2007, Searels and his young and inexperienced line had paved the way for the emergence of Knowshon Moreno while giving up only 15 sacks.
January 8: Florida won the national football title and more or less emasculated the Big 10.
January 15: Chan Gailey was a candidate for the Miami Dolphins job. I think both the Dolphins and Jackets wish this had happened.
January 17: Steve Newman's improbable buzzer-beater completed a last-minute comeback at Arkansas.
January 18: Rep. Jack Kingston stood firm against the Gators in Congress.
January 20: The Dawgs followed up the Arkansas win with a devastating loss at Alabama. Though the game ended on a questionable no-call, the story was Georgia's second half collapse after leading by 15 at halftime. In hindsight, this loss probably cost Georgia a trip to the NCAA Tournament.
January 22: Bruce Pearl gave the people what they wanted at a Lady Vols game.
January 24: The roller-coaster ride continued for Georgia basketball with an overtime win over Kentucky.
January 27: They did it for Brophy: with a buzzer-beating three-pointer, Georgia upset LSU on a day set aside to honor the memory of Kevin Brophy.