Sunday January 28, 2007
I'll start with the sappy stuff that everyone else has already thought and probably said…how fitting that Georgia beats LSU by three on a three-pointer at the buzzer on the day that they honored the memory of #3.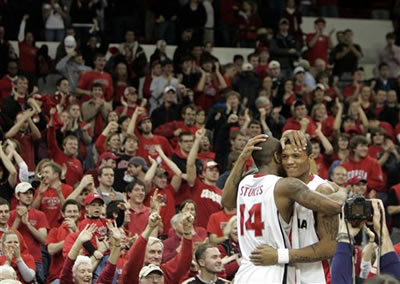 Photo: AP
With that out of the way, this was another nice win for the Dawgs as they continue to hold serve in the SEC at home. The win moves them to 5-2 in the SEC, and they remain tied with Vanderbilt and Kentucky for second place in the East. They've now beaten consecutive ranked teams and are a blown lead at Alabama away from owning a six-game SEC win streak.
Though the dramatic finish and outcome makes much of the details of the game less interesting, this was a very frustrating game. Georgia fell behind early by failing to control the defensive glass, and they managed less than ten points over the first twelve minutes of the game. LSU did everything they could do to let Georgia take control of the game, but the best that Georgia could do once LSU's shooting went cold was to draw even and set up a back-and-forth second half.
Though LSU's Glen Davis had 18 points and 14 rebounds, a big story in this game was Takais Brown's ability to hold his own. Brown had 14 points and 10 rebounds including a tremendous eight offensive rebounds. Georgia's 14 offensive rebounds were critical on a night where they shot under 35%.
It was basically a two-man game for both teams with one big man and one outside shooter. LSU had Davis and 16 points from guard Terry Martin, and Georgia had Brown and 16 from Levi Stukes. Georgia just had more guys doing a few little things to make the difference, and for one of the first times their depth really showed. Whether it was two big three-pointers from Woodbury or a critical offensive rebound and dunk to tie the game by Mercer, the Dawgs got just enough of those little plays.
Georgia has an opportunity to steal one on the road this week. Tennessee is vulnerable with leading scorer Chris Lofton likely out due to an ankle injury, and the Dawgs can win in Knoxville as well as they're playing now. Though we don't want to get ahead of ourselves, this game against Tennessee is going to serve as a good test to see whether or not Georgia will enter the second half of the SEC slate as not only legitimate postseason participants but also a factor in the SEC standings.
PS…if I never have to hear Cliff Ellis talk about "candy", "Big Baby", or "bonus sphere" again, I'll be a much happier spectator.
UPDATE: You can watch the entire Lincoln Financial broadcast here.