Thursday January 18, 2007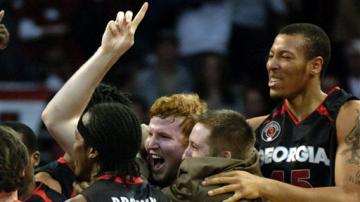 Look who's 3-1 in the SEC. Look who hit the game-winner.
After the past few seasons, a three-game SEC winning streak and a win in Fayetteville over Arkansas might seem as improbable as senior forward Steve Newman hitting three three-pointers, including a 25-foot shot at the buzzer, to lead Georgia on a 12-2 run at the end of the game. But it's all true. Newman is the improbable hero, and Georgia is as hot as they've been in the league since 2004.
Though it was a close game most of the way, Georgia slowly dug themselves a hole as the end of the game approached. Shots weren't falling, and Arkansas's seven-point lead seemed huge in a game that had been back-and-forth. After two wins at home, was it a bit much to expect this team to win in an arena where Georgia had won only once before? As we're learning, this is a bit different Georgia team.
Though Newman's game-winner at the buzzer was the highlight, the end of the game was a series of big plays on offense and defense. The win wasn't possible without any of these plays. From the time that Arkansas took a 62-55 lead with under two and a half minutes left, it took this series of events to get the win:
Newman hit his first three-pointer to cut the Arkansas lead to four.
After Arkansas made a basket (their last of the game), Newman hit another three-pointer, and the lead was down to three with over a minute left.
Georgia's defense clamped down and forced an Arkansas airball as the shot clock ran out with around 45 seconds remaining.
Gaines stroked a long three-pointer to tie the game at about the 30-second mark.
Arkansas set up for the final shot, but Gaines tipped the ball away. Takais Brown recovered the loose ball, and Georgia called timeout with seven seconds remaining instead of forcing the ball upcourt.
Arkansas used their sixth foul with two seconds left which forced Georgia to inbound the ball again, but it also allowed Georgia to bring Newman back into the game.
Newman caught the pass from the left sideline, turned, and fired a 25-foot shot.
To me, the most significant thing about the win was that Georgia won a meaningful game without a strong scoring night from the guards. Georgia's formula for success over the past few years has been very consistent: it took a big night from one and often several guards. Think about the Gonzaga win this December: Stukes, Gaines, and Mercer combined for 65. Last weekend against Vanderbilt, Stukes and Humphrey had big nights.
Against Arkansas, Georgia was able to weather a spotty night from the guards and still win a road conference game. Stukes was off. Humphrey didn't do much in the second half. Mercer had 15, but they were scattered throughout the game, and he didn't do much in the last five minutes. Before they hit four three-pointers to finish the game, the Dawgs were shooting 5-of-19 from outside. That kind of play from the guards usually spells trouble. But in this game, other players stepped up. Brown was able to make some things happen inside. Newman of course was big at the end. Gaines continues to shine later in his career the same way Rashad Wright did. In this game, he had eight assists and no turnovers. He also had the big three to tie it and made the defensive stop to set up the winning shot. Most importantly, a turnover-prone team only turned it over ten times in this game – quite a change from how they were playing a few weeks ago. It's a big part of the story that Georgia remained determined and found a way to win in such an environment when their usual path to success wasn't working.
It's a positive sign that the team is maturing and learning how to come through in different ways. They'll need that several more times this year in SEC play. This three-game winning streak will be put to the test immediately at Alabama this weekend. #10 Bama is one of the best teams in the SEC, but they've also lost in spectacular fashion to Vandy and Arkansas. There is still a long way to go in the season – we were excited over a few January wins last year too. It's encouraging that the team is proving not to be dependant on one player or one style to win. That development is a good thing, and we'll see if it will make the difference in a few more SEC wins and a trip to the postseason this year.
Update: Someone already has Newman's shot on Youtube with Scott Howard's call. Great stuff.