Wednesday May 13, 2009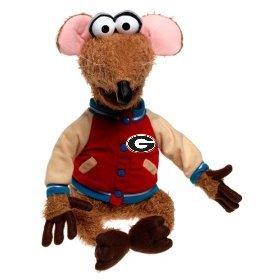 Rally Rat strikes again
No offense to the tennis and softball teams that recorded wins over Georgia Tech this year, but the rare possibility of getting swept in the major men's sports by Tech wasn't sitting well. Fortunately the Diamond Dawgs came through with a 7-5 win over the Yellow Jackets last night at Turner Field. It was Georgia's 5th straight win over Tech in the annual charity game set up to benefit Children's Healthcare of Atlanta.
It was a perfect night for baseball, and 24,665 humans as well as one very important rodent turned out to watch the game. It was the second-largest crowd in the history of the event, and it was the sixth-largest crowd for any regular-season NCAA baseball game. The event was well-run, and the highlight of the night was the presentation of over $2 million to CHOA.
To be honest, it wasn't the prettiest game for either team. Walks, errors, hit batsmen, a balk, and poor baserunning were as much a part of the game as timely hits and pitching. Both teams overcame deficits, and a three-run seventh inning for Tech tied the game and set the stage for a great finish.
The late innings were framed by a pair of managerial decisions. In the 8th inning, Georgia pinch hit Jonathan Thomas for Zach Cone. The tactic worked on offense – Thomas drew a walk – but it was very nearly disastrous on defense. In the bottom of the 8th, Thomas misjudged a deep fly ball to the warning track, and the two-base error put the go-ahead run in scoring position with no outs. It was a clutch job by Palazzone and Weaver to bear down and keep the score level going into the final inning.
In the 9th Tech skipper Danny Hall elected to walk Massanari after Poythress doubled to the base of the 400-foot marker in center field – Georgia's second near-miss to dead center of the night. Massanari had homered earlier in the night but hasn't done much since the 3rd inning. The intentional pass set up Lyle Allen with two baserunners, and his single ended up plating the deciding two runs.
Allen was the star at the plate with two singles and a double, and Justin Earls came up huge on the mound after shaky control chased Georgia starter Cecil Tanner. "Earls changed everything, and he got control of the game," said Perno. Dean Weaver was also solid in getting the last out of the eighth and holding Tech scoreless in the 9th.
An important final regular season series at South Carolina is up next. Georgia is already assured of a spot at the SEC Tournament and likely has an NCAA bid sewn up as well, but it's all about positioning now. The key question though: will the South Carolina health department be waiting on the Georgia bus in hopes of taking out Georgia's most valuable pet?