Thursday March 5, 2009
A quick two-game winning streak to finish the regular season snapped an unprecedented five-game losing streak and put the Lady Dogs squarely in the middle of the SEC standings entering this season's SEC Tournament in Little Rock which gets underway today. In most seasons the SEC Tournament is a formality for Georgia, but the mission is much different this year. There's no question that the Lady Dogs must turn some heads this weekend in order to earn an NCAA Tournament bid and avoid missing the national tournament for only the third time in program history.
Georgia heads to Little Rock as a classic bubble team: several impressive wins and several devastating losses. First, the good: three wins over ranked teams who are also three of the top four SEC seeds. The bad: losses to Ole Miss and Arkansas, a late-season five-game losing streak, and five nonconference losses against a pretty weak slate. In a sub-par season by Georgia standards, the Lady Dogs have occasionally thrilled and often disappointed. They've shown that they can beat the teams that stand between them and the semifinals, but with the WNIT not an option do they have a season-saving run left in them?
After several seasons of LSU and Tennessee duking it out for top honors in the conference, both of those powerhouse programs are rebuilding this year. That has allowed a bit of a shakeup in the SEC standings this year, and names like Bonner, Wirth, and Dotson have taken over for Parker and Fowles. The biggest difference this year is that the SEC hasn't proven to have a national contender. Auburn is a Top 5 team with only two losses, but their only real nonconference test was Ohio State. No one else has looked like more than a Sweet 16 team.
Auburn won the regular season title with room to spare, and they avoided the slumps that can get to the best of teams. Now they get to deal with the pressure of the top seed. That might not be a big deal for some of the other top seeds who are more used to the spotlight, but Auburn was just the sixth seed last year. This is a talented team in new territory as the favorite, and we don't know how they'll respond.
Back for its third season is my breakdown of the SEC Women's Tournament field.
The Favorite
#1 Auburn (12-2). The dominant play of Auburn has been the story of the season. They raced to a 20-0 start punctuated by a 82-68 dismantling of Tennessee. Setbacks to decent Vanderbilt and Georgia teams come with the territory and showed some vulnerabilities, but the Tigers have been the class of the league this year. Likely SEC Player of the Year DeWanna Bonner leads the way at forward, but solid guard play provides nice balance.
Contenders
#2 Vanderbilt (10-4). With wins over Tennessee, LSU, Auburn, and Florida, you'd expect Vandy to be one of the favorites to win the tournament. They've already beaten the rest of the top seeds. But puzzling losses to teams like Georgia, Ole Miss, and Mississippi State show that there isn't much margin for error for this team. If Vanderbilt has a glaring weakness, it's lack of size. They rely a lot on the potent outside shooting of Wirth and Marsh and depend on effort and position from an undersized frontcourt for points and rebounds inside. In the season finale, they were outrebounded 45-23 by Tennessee yet weren't that far away from winning in Knoxville. Bigger opponents can be effective inside against Vandy, but the Commodores usually shoot and defend well enough to handle most SEC teams.
#3 LSU (10-4). A few weeks ago, LSU was 5-4 in the SEC with games left against, among others, Florida, Georgia, and Tennessee. Van Chancellor's team had massive turnover after saying goodbye to seven seniors last year, and true freshmen now make up the bulk of the LSU lineup with the exception of standout guard Allison Hightower. The Tigers took their lumps early in the season, but since that 5-4 record they've won five straight and have vaulted from the bubble to become one of the SEC's stronger teams. They still play tough defense, keep the scoring low, and have found enough offense to stand as one of the hotter teams entering the tournament. That winning streak will likely be tested on Friday by Mississippi State who beat LSU twice during the regular season.
#4 Florida (9-5). If any team could challenge Auburn for the best start to the season, it was Florida with their 22-2 record. A lone road loss at Auburn was their only SEC blemish. But since Feb. 12, Florida has lost four of five games and slid from a likely #2 seed to a shaky #4 seed. Defense has become spotty; opponents scored over 80 points in three of those four losses. The Gators were the #11 seed just two years ago, and their rapid rise might have led them to think they were better than they were. Still, this is a team that has impressive wins over FSU, Pitt, Arizona State, and Tennessee. But if they don't snap out of this recent funk, they might not survive a Friday rematch with Tennessee.
#5 Tennessee (9-5). It's been a down season by Tennessee standards, but you still have to include them as a contender. For only the second time in program history they aren't among the top four seeds and will have to play on Thursday. Tennessee, like LSU, lost a tremendous amount of talent from last season, and they've had their difficulties getting the newcomers to play at a consistently high level. They've been prone to significant lapses in scoring and have had to rely on effort in defense and rebounding to keep them in a lot of games. That effort has been hit or miss at times, and it's been frustrating to Pat Summitt to have to coach effort out of her young team. They'll surely be up for the tournament and should have no problems with Alabama, but after that they'll have to avenge regular season losses in order to advance. It's been that kind of season where I wouldn't be surprised to see Tennessee reach the finals…or get bounced on Friday.
Looking to make noise
#6 Mississippi State (8-6). At 21-8 overall and 8-6 in the SEC, MSU seems set in the NCAA Tournament. They have a season sweep of LSU and a win over Vanderbilt to their credit, and they have really no bad losses. Even a close loss to Arkansas doesn't seem that bad now. If seeding holds, the path to the finals goes through three teams they've beaten during the regular season. The possibility is there for a big improvement in NCAA seeding if they can make a deep run. Alexis Rack will shoot the ball from anywhere on the court. If she's hot, look out. If not, they won't last long.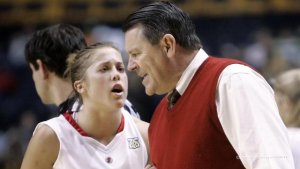 Please, sir, just 30 seconds of rest…
On the bubble
#7 Georgia (7-7). After getting swept in two games against Kentucky (including an SEC Tournament loss) last season, the Lady Dogs hope to return the favor this year. Thanks to the clutch play of Ashley Houts, Georgia emerged with a win in Lexington just a week ago. But it wasn't easy or pretty. Houts will be key again in the rematch against a relatively weak UK backcourt. Phillips and Robinson can match up with Kentucky's strong frontcourt, but they'll need to avoid foul trouble. When Houts, Phillips, and Robinson play well, Georgia is usually successful. When they get that plus a contribution from Marshall and/or Puleo, they can run with any team in the league. The biggest danger sign is early foul trouble on a post player, and a sloppy night from Houts usually means disaster. Kentucky tried to focus on stopping Houts last week, and she still came up big. They'll likely try the same strategy in the rematch, and she'll need to be every bit as determined this time around. Win and the postseason hopes remain alive. Lose and the season is over.
Spoilers
#8 Arkansas (6-8). Before losing badly to Auburn in the regular season finale, Arkansas had reeled off five straight wins to overcome a 1-7 SEC start and climb out of the cellar. During their winning streak they knocked off Georgia and Florida. They're athletic and play straightforward without any complicated offense, and they've been an interesting story down the stretch. But it's unlikely that they'll get past Auburn on Friday.
#9 Ole Miss (5-9). Wins over Georgia and Vanderbilt highlight an otherwise unremarkable season for Ole Miss. They've looked dangerous in close losses at Tennessee and Auburn but have shown no consistency. They lost by 11 to Arkansas just a few weeks ago, and they'll have to come up with some more road toughness to survive another game with Arkansas in Little Rock.
#10 Kentucky (5-9). The Cats were the #4 seed last year and lost a bit of talent, but a win over Tennessee proved that they still have some punch. They don't score or shoot particularly well, but they can rebound and play quality defense. Their frontcourt can match up with most in the league. Victoria Dunlap is the SEC's top rebounder in addition to being a productive scorer, and wing Amani Franklin is a dangerous player who can score inside or outside.
Didn't make hotel reservations
#11 South Carolina (2-12). At times, South Carolina has been able to put a scare into SEC teams. They came within four points of Auburn, six points of Georgia, ten points of Vandy, and seven points of LSU. They have the ability to challenge Mississippi State on Thursday but likely won't get past a motivated opponent.
#12 Alabama (1-13). The Tide have had a single SEC win in each of the past two seasons. They won't improve on that against an angry Tennessee team.