Thursday August 28, 2008
It's probably the most common question this week. Everyone seems to know that the game is on pay-per-view, but beyond that it gets messy. Here's our best attempt to clear things up.
If you live in Georgia:
Comcast Sports Southeast (CSS) controls the broadcast rights within the state of Georgia. The only way to order the game if you have an address in Georgia is to contact your local cable company. Comcast digital subscribers should be able to order the game right from your cable box. Even if you don't have Comcast cable, it's possible that your local cable company has partnered with Comcast for this game. The only way to be 100% sure is to call your cable company.
If you live outside of Georgia:
You can order the game as part of ESPN's GamePlan package. Either buy the game or the season package for not much more.
Can I get the GamePlan package in Georgia?
No. This game is blacked out on the GamePlan package within the state of Georgia (see map below) because Comcast controls the rights within Georgia.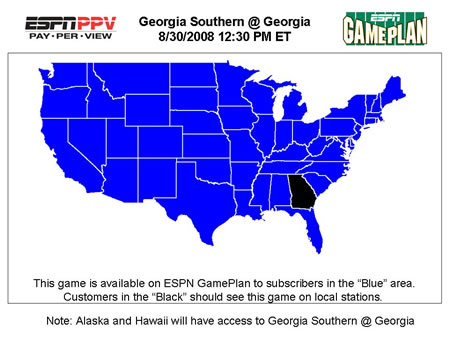 I have DirectTV / Dish, and I live in Georgia. Am I screwed?
Pretty much. The only way to get the GamePlan package is to have an out-of-state address. Unless you can convince the dish company that you're taking your dish "camping" at an out-of-state location, you're SOL. Some have reported success with that method though – your local channels will change for the weekend as your address changes to some out-of-state campground, but you'd be able to order the game. If you want to jump through those hoops, that's up to you.
What about a sports bar?
The only thing I can tell you is to call the bar of your choice. Because some bars use satellite only, they can't order the game in Georgia. Those that get cable should be able to order the game. Again – calling is the only way to be 100% sure. Out-of-state bars should have the game if they get GamePlan (and if they're worth a damn, why wouldn't they?). Just call to make sure they'll show the Dawgs instead of the local team.
There…clear as mud, right? If you know of any bars that definitely will be showing the game, drop the name in the comments. I know that the Derby in Atlanta is among those showing the game. TJ's in Roswell also.
UPDATE: The AJC has a few additional metro area locations that will be showing the game.