Monday August 31, 2009
From Mark Richt's comments about the heat in Jacksonville to the hot conditions that gripped the south-central US for much of this summer, the role of weather has been a very minor storyline during the offseason.
Fortunately the summer heat has broken on the plains, and Stillwater is currently enjoying a nice preview of fall. Temperatures are expected to remain in the 80s this week with a very reasonable 86 degrees and only a slight chance for a summertime storm forecast for Saturday. Forecasters are expecting that temperatures "will remain below (normal) late week and probably into the Labor Day weekend."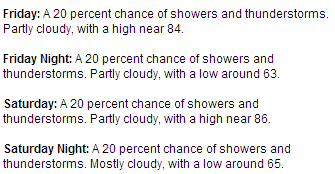 Of course forecasts 5 days out can change dramatically, but the early read is that the weather should be just fine for the game and certainly nothing too extreme or out of Georgia's comfort zone.