Wednesday March 5, 2008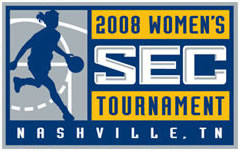 The SEC Women's Tournament returns to Nashville this weekend. The tournament last took place in the Music City in 2004, and the results were generally kind to the Lady Dogs. It was also the last time that Georgia didn't earn a first-round bye and entered the tournament as the #5 seed with a game on Thursday.
In 2004, the Lady Dogs overcame the disadvantage of the extra game and moved into the championship game after a semifinal upset over Tennessee (Georgia's last win against the Lady Vols). The championship game was a painful loss for Georgia as they built a 20 point lead and watched it evaporate in the second half against hometown Vanderbilt. We'd find out later that a stomach virus had struck the team, but it didn't make the loss sit any better. Georgia built on that SEC Tournament run to go deep into the NCAA Tournament, losing to LSU in the final seconds of the regional finals with the Final Four on the line.
Georgia's Game Times
Thursday: 7:30 p.m.
Friday: 7:30 p.m.
Saturday: 6:30 p.m.
Sunday: 7:30 p.m.
All times Eastern
The 2008 bracket seems as favorable as it could be for Georgia to have more success in Nashville. They should get by Alabama easily. Kentucky is as weak a 4-seed as the conference has seen in a while (LSU was #4 last year), and the awful 47-44 home loss to Kentucky still has to dig at the Georgia team. If they can get past Kentucky to the semifinals, they'll likely face LSU. LSU is a great team of course, but Georgia played them well in Baton Rouge and shouldn't back down if the teams meet again.
Cream of the crop
#1 LSU (14-0). Candace Parker will likely win more postseason honors and be drafted higher, but none of the teams contending for the national title rely on one player like LSU relies on Sylvia Fowles. She scores when she wants to, and inside shots are often sent right back at high velocity. Three of LSU's four losses came when Fowles was injured prior to SEC play, and the only other loss was a close one to UConn. LSU has a bit of an outside game with Quianna Chaney for balance, but Fowles is still the key to the machine. LSU doesn't have an especially explosive offense, so expect their scores to be low unless turnovers factor in.
#2 Tennessee (13-1). It can't sit well that they're not the top seed at the SEC Tournament, not with a #1 NCAA Tournament seed still in play. Tennessee has had a solid season as always, but they've had moments that make you scratch your head. Long scoring droughts have been the biggest problem for the Lady Vols this year, and the perimeter game can be hit or miss. While the Tennessee supporting cast is stronger than LSU's, more is expected of it.
Pain in the ass
#3 Vanderbilt (11-3). I can think of no better way to describe them. You hear LSU, Tennessee, blah, blah, blah, and there's Vandy cutting down the nets. They can score points in a hurry, and their defense challenges your perimeter game. They beat likely second-round opponent Auburn by around 30 points just a week ago, so go ahead and pencil Vandy into the semifinals. To advance to Sunday, they'll have to beat a Tennessee team that's beaten them twice by double digits.
Something to prove
#4 Kentucky (8-6). Everyone expected Kentucky to stumble at some point. They didn't play particularly well out of conference and are 14-14 overall. They had the Schedule of Death this year playing both LSU and Tennessee twice. Despite that, they beat Georgia and Auburn and went until the final game of the season before they lost to a team seeded 5 or below. South Carolina's win at Lexington to close the regular season was perplexing after the Wildcats had just come within four points of LSU a week earlier.
#5 Georgia (8-6). Georgia's 13-0 start masked more close finishes than I care to recount. The team was exposed soon enough and started SEC play 4-5 with a pair of nonconference losses thrown in as well. This has been one of the weakest Georgia backcourts that I can remember, but they got it together a bit during the end of the season and won four in a row before dropping the regular season finale to Tennessee. Defense has been strong for much of the year. Close losses to teams like Tennessee, LSU, and Oklahoma have shown Georgia's ability to play with most programs, but they have yet to get over the hump and beat a ranked team this year. Advancing to Saturday would be nice, but they might have to knock off LSU to avoid an unfavorable NCAA seed.
#6 Auburn (7-7). Auburn started 12-1 with a win over Ohio State in there. That start earned them a ranking, but they soon went into a 1-5 tailspin interrupted only by a 30-point win over Georgia. Losses to Florida and Ole Miss have them very much on the NCAA bubble, and they might have to beat Vanderbilt to guarantee a spot. They'll have 20 wins if they can beat Arkansas, and that always looks good on the resume.
Might make it to Friday
#7 Florida (6-8). All in all, this wasn't a bad year for a Florida team that was the 11-seed a year ago and welcomed a new coach this year. They were a better team, and their seed reflects that. Their best win of the year was probably an upset of Auburn. They're just a few wins short of being NCAA Tournament material, but that might be getting ahead of things for the first year of the turnaround. They should still receive a WNIT berth, but they can't overlook South Carolina in the first round.
#8 Ole Miss (6-8). Ole Miss has had an unremarkable season with a win over Auburn the lone standout win. They had won 3 of 4 before blowing a lead to Florida in the last game. You'd call them the favorite in this 8-9 matchup, but they split the season series with their rival.
#9 Miss. St. (4-10). The Bulldogs have had a bit of a disappointing season. As usual, they have a strong record at home (Starkville is just one of those places), but this year they haven't done much away from the Hump.
Upset Special?
#10 South Carolina (4-10). Last year I got lucky and picked Florida's first-round upset win at the #11 seed. I'll go with South Carolina this year over Florida. The Gamecocks beat Florida recently, and South Carolina has a bit of momentum after knocking off Kentucky in Lexington last weekend. Florida had to put together a big comeback to beat Ole Miss over the weekend, and they have a new coach in her first SEC Tournament.
No hotel reservations
#11 Arkansas (2-12). Yes, this team started 15-0 and was ranked at one point. Then they lost a key player to injury, and the season has more or less imploded on itself. Their season should come to a quick end against Auburn.
#12 Alabama (1-13). An "upset" of South Carolina is their only SEC win in two seasons.