Wednesday February 28, 2007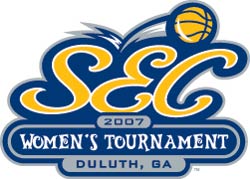 The 2007 SEC Women's Basketball Tournament begins Thursday afternoon right here in our backyard in Duluth at the Arena at Gwinnett Center. Tennessee once again is the heavy favorite after a perfect 14-0 regular season conference record, but the competition has been fierce this season among the next several seeds.
Georgia's Game Times
Friday: 3:30 p.m.
Saturday: 9:15 p.m.
Sunday: 7:30 p.m.
All games on FoxSS
except championship (ESPN2)
From the Georgia perspective, the seeding worked out well. Tennessee and LSU, the only SEC teams to beat Georgia over the past two seasons, are on the opposite side of the bracket, and Georgia wouldn't face either until the championship game. Georgia earned a #2 seed and a first-round bye, and they'll face the winner of Kentucky-Arkansas on Friday. Should they advance to Satruday's semifinals, they'll likely face either Vanderbilt or Mississippi State. Georgia defeated all of their potential quarterfinal and semifinal opponents during the regular season.
Of course in a conference as competitive as the SEC, talking about ideal seedings and preferred opponents can be a matter of picking your poison. Seeds 1-11 are capable of advancing. Once you get beyond the Ole Miss vs. Alabama game on Thursday, any game for the rest of the weekend has the potential to be at least interesting and possibly much more. Here's an overview of the teams heading into the postseason…
In a league of their own
#1 Tennessee (14-0). The Lady Vols swept through the conference undefeated. Their only losses this season have been to ACC powerhouses Duke and North Carolina. That's not to say that Tennessee hasn't been pushed in the SEC; Georgia, LSU, Vanderbilt, and Arkansas proved to be tough tests for the Lady Vols away from home. They emerged with a win each time and with additional close-game experience that is very valuable in the postseason. When they are on, Tennessee can play with anyone. You have the dominant inside game of Candace Parker, the outside shooting of Sidney Spencer, the do-everything glue from Alexis Hornbuckle, and a stifling defense that creates offense. If there is a weakness, it's outside shooting. Spencer can be streaky, and they aren't quite as strong from the perimeter as they have been in recent years. Still, it's not much of a weakness if they can work the ball inside to Parker.
The contenders
#2 Georgia (11-3). Despite total of four games against LSU and Tennessee, Georgia was able to roll through the rest of the league and take a win in Athens over LSU. They are led again by forward Tasha Humphrey who is joined on the frontcourt by emerging freshman Angel Robinson. Two other freshmen, point guard Ashley Houts and dangerous wing Christy Marshall, form a solid young core for the future. It will be interesting to see how the freshmen hold up in the glare of the tournament spotlight. Guard play and perimeter shooting might be what determines the length of Georgia's stay. Senior Cori Chambers was mired in a slump for much of the SEC season, but she shot very well in the last game against Arkansas. With a functional outside game and Humphrey operating inside, few teams can handle Georgia.
#3 Vanderbilt (10-4). Vandy enjoyed a nice season and played themselves into this position by beating LSU a couple of weeks back. They were one of the hottest teams in the conference before a big defeat at Tennessee ended their regular season. Like most of the other top seeds, Vanderbilt didn't lose to any "bad" teams, but losses to teams like Georgia and Ole Miss made it clear where they fall in the order of things. They've been ranked in the low-teens most of the season. They have all the pieces – a dynamic forward in Carla Thomas, a penetrating guard in Dee Davis, bulk in the middle in Liz Sherwood, and a potent outside shooting attack. This is probably Vandy's best team since the 2004 SEC Tournament champions, but they still might be just short of Georgia or Tennessee on a neutral court.
#4 LSU (10-4). LSU's schedule caused them some problems late in the season, and they were knocked from the second place perch. They are just 4-4 in February and have lost two of three coming into the tournament. Though they still have the strong presence of Sylvia Fowles inside, they lack an explosive offense. They rely on strong defense, and it has worked more often than not for them. It's not like they're getting blown out; they've lost very close games to teams like Georgia, Connecticut, and Tennessee. The lack of a consistent playmaker other than Fowles has hurt them. Quianna Chaney and Erica White have tried to shoulder some of the burden on offense, but it's a tall job when replacing someone like Simeone Augustus. Should Ole Miss advance, and that's almost a certainty, LSU would get a rematch against the team which handed them their first SEC loss. It should be one of the most anticipated quarterfinal matchups.
#5 Ole Miss (9-5). Ole Miss has been on the cusp of a really good season since beating LSU early in conference play. They feature Armintie Price, a scoring machine who is contending for Player of the Year honors. Since that win over LSU and a subsequent rise in the polls, Ole Miss hasn't been able to sustain momentum. A loss to Auburn last weekend cost Ole Miss dearly. Instead of the #3 seed and a Thursday bye, they slid all the way to #5, must play on Thursday, and end up on the LSU/Tennessee side of the bracket. That's a painful lesson in taking care of business, and I doubt they will make the same mistake on Thursday against a dreadful Alabama team.
Looking to make noise
#6 Mississippi State (7-7). Mississippi State is a classic bubble team. They are a respectable 7-7 in the nation's best conference. They have several "nice" wins over teams like FSU, Georgia Tech, and Ole Miss. But in true bubble team style, they hurt themselves with some missed opportunities such as a loss to South Carolina last weekend. As the #6 seed and finishing ahead of teams like Kentucky and Auburn, they can be considered the surprise of the conference. Their first round game isn't as easy as it seems though. #11 seed Florida might be 2-12 in the SEC, but the Gators played MSU to within five points during the regular season.
#7 Kentucky (6-8). Kentucky looked to be set up to finish .500 in the conference, but they blew it by losing at Florida. Kentucky is really under the gun now. They had one of their best seasons in decades last year and made the NCAA Tournament. They were ranked entering this season. But the signature wins that led them to the postseason last year didn't come this year, and now the Wildcats find themselves in a desperate situation. The need to beat Arkansas on Thursday and possibly upset Georgia on Friday to have much confidence in a repeat NCAA invitation.
Just hanging on
#8 South Carolina (6-8). South Carolina is reasonably hot for a lower seed. They've won three of their final five games with the two losses coming to Georgia and Vanderbilt. They've been a thorn in the side to SEC peers like Kentucky, Auburn, and Mississippi State. They might not be done yet – another win over Auburn on Thursday could sink the Tigers' postseason hopes. South Carolina has too poor of an overall record and no wins of significance to have any NCAA aspirations, but their solid finish could land them a WNIT bid.
#9 Auburn (6-8). Despite a sub-.500 conference record, Auburn actually holds on to slim NCAA chances. They have a freakishly high RPI (#35) considering their record and lack of really stellar wins. If they survive a rematch with South Carolina, Tennessee might be standing between the Tigers and a tournament bid on Friday.
#10 Arkansas (3-11). Arkansas is an example of a talented young team that hasn't come together yet. They have speed, decent shooting, and a presence inside. They won 14 of their first 15 games this season and earned a ranking, but that was before SEC play. They showed what they're capable of in the past week by taking Tennessee to overtime and playing Georgia even for a half. They are in a position to play spoiler in Duluth; a win over Kentucky to avenge a 20-point loss just a week ago would all but end Kentucky's NCAA hopes.
Upset Special?
#11 Florida (2-12). With a lame duck coach and a 2-12 SEC mark, Florida might seem like an odd team to keep an eye on. But they haven't quit on their coach and have won two games down the stretch. A win over Kentucky last weekend was huge both in terms of what it meant to Kentucky's NCAA hopes and the confidence it could give Florida entering the tournament. Florida played their first-round opponent, Mississippi State, close during the regular season, and they are capable of shocking MSU if the Bulldogs come out tight. We're only a year removed from a Florida team that upset LSU and Tennessee in the same season.
Didn't pack an overnight bag
#12 Alabama (0-14). They are abysmal. It's year two of Stephanie Smith's rebuilding program after a thorough housecleaning, and the program is in bad shape.