Wednesday May 30, 2007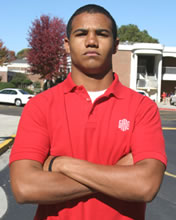 Christian Robinson
Photo: Rivals.com
We've been over just how thin the Dawgs are at linebacker, and it should come as no surprise that the position is a recruiting priority.
After a slow period of recruiting news that actually included a few decommitments, things have picked back up in the past couple of weeks. First there was the huge pledge by WR Tavarres King. On Tuesday, Georgia got the good news ($) from Greater Atlanta Christian LB Christian Robinson.
To give a little insight into Robinson, he received his offer from Georgia while on a mission trip to Africa ($) earlier this spring. After receiving offers from Georgia and South Carolina, Robinson was a standout at the Athens NIKE camp and soon received offers from LSU, Alabama, Clemson, and several other SEC and ACC programs.
Besides addressing positions of need, the commitments of King and Robinson are noteworthy for another reason: the Dawgs were up against some big-time pedigrees. King's father Anthony was a tight end at Clemson. Robinson's father Ken was a linebacker at South Carolina, and Christian has had other family play at Clemson. Georgia was able to convince these two top-quality prospects to remain in-state despite their family ties, and we look forward to welcoming Ken and Anthony and their sons into the Bulldog family.