Friday May 18, 2007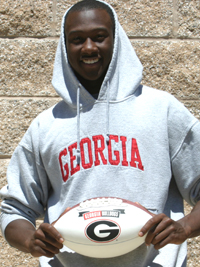 Tavarres King
Photo: Rivals.com
Such is the life of a college football fan. Of course it's probably not healthy to carry this behavior into May, but health isn't the calling card of your typical SEC fan.
Yesterday the Bulldog nation was thrown into the doldrums with the announcement of Paul Oliver's ineligibility. Today, they are back on top of the world with the Friday afternoon announcement that Habersham Central WR Tavarres King has committed to Georgia for the recruiting class of 2008. UGASports.com was on location and has coverage ($). Because of his 6'1" 65lb. frame, he draws comparisons to Terrence Edwards.
King joins South Carolina standout A.J. Green to become one of the best on-paper receiver tandems to commit to Georgia since Reggie Brown and Durrell Robinson in 1999. Unlike that tandem, Green and King should both show up on campus for their freshman season. It is possible that Georgia isn't done yet – other outstanding in-state prospects such as Joshua Jarboe are considering the Dawgs and would be significant additions in their own right. People want to catch passes from Matt Stafford.
King chose Georgia over Clemson, Florida, and Georgia Tech.