Wednesday September 21, 2022
I reference the 2019 South Carolina game a lot since it's one of the few upsets in the Kirby Smart era beyond the transition year of 2016.
ESPN's Bill Connolly posted his advanced box score from Saturday's game, and why not compare it to the one from 2019? The format has changed over the years, but some of the same data is in each.
Turnovers are the first obvious difference. Georgia was -4 in 2019 and +3 in 2022. One of those 2019 turnovers was a pick-six that gave South Carolina the lead. On Saturday a Georgia interception ended an early South Carolina scoring opportunity. In 2019 a similar South Carolina possession ended with a 49-yard field goal. That turnover margin was a big reason why South Carolina came out with the upset despite an 8% win expectancy.
The Georgia defense was similarly effective in 2019 and 2022. The 2019 defense finished the year rated #1 by SP+ and was otherwise outstanding until LSU showed up in Atlanta. South Carolina's yards per play, total yardage, and success rate were right about the same in the two games. About the only difference was that South Carolina's lone explosive pass play in each game was a touchdown in 2019 and only moved the chains in 2022.
The real reason for posting these was to see the evolution of Georgia's offense. The Bulldogs went from a success rate of 46% in 2019 to 71% in 2022. To be clear – that 46% in 2019 wasn't bad…it was slightly above the national average. It's just that much better in 2022. Georgia also went from under 5 yards per play in the 2019 game to 8.4 on Saturday. Georgia wasn't especially explosive in Saturday's win (Bowers' touchdown aside), but they were just brutally efficient at driving the ball with chunk passing plays. We talked in 2019 about the frustration with Georgia's phone booth offense. In the win over Notre Dame Jake Fromm was 11-12 for just 59 yards passing at halftime – an omen for Georgia's offensive identity the rest of the season. In the loss to South Carolina Fromm threw for nearly 300 yards on just 5.26 yards per attempt. Georgia eclipsed that yardage total in 2022 on about 20 fewer attempts at a clip of 11.3 yards per attempt – over 5 yards per attempt better than in 2019.
Anyway – enjoy the progress of the past three seasons. (Click to enlarge.)
2019: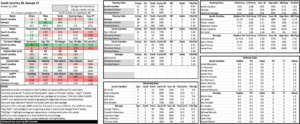 2022: