Tuesday October 7, 2014
With everything else going on around college football on Saturday, it was nice to spend a Homecoming Saturday on the periphery of things. We've seen Vanderbilt spoil Homecomings before, most recently in 2006, but this Vandy team is not nearly good enough for that to have ever been a possibility this year. Georgia was never in danger of becoming part of the carnage that took out so many ranked teams. So we got a relatively uneventful win that was wrapped up by the end of the first quarter, a weekly serving of Todd Gurley's magnificence, and enough stumbling to make a 27-point SEC win seem unimpressive.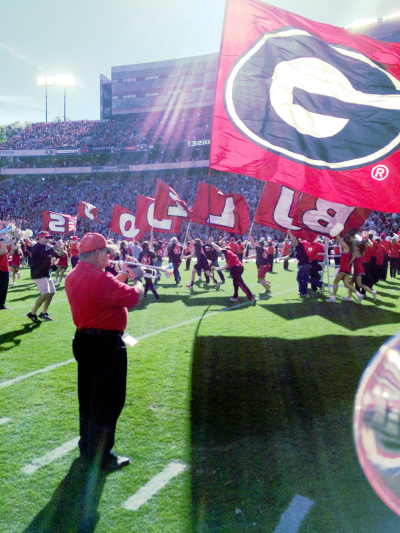 Quarterbacks
We saw the first glimpses of a two-quarterback system when Brice Ramsey took a series in the first half. By the end of the game, four different Bulldogs, including Faton Bauta and Todd Gurley, took snaps. Unlike some rotations in other seasons, I'm not sure what the endgame is here. Is it trying to light a spark under Mason? Is it grasping at straws to find some answers in the passing game? Is it an audition for Ramsey?
This isn't Stafford biding his time behind JT3, nor is it Greene versus Shockley. Ramsey might be the favorite to take over the position next year (the Dawgs have a redshirting true freshman who might have something to say about that), but we haven't seen enough of a difference between the starter and backup to have the sense of inevitability that developed around this time during the 2006 season. Shockley was a change of pace different enough from Greene to present defenses with unique challenges in preparation and execution. Other than perhaps sharper passes, Ramsey and Mason are running the same offense. If Georgia has a QB rotation that offers any real difference to defenses, it's actually with Bauta (or Gurley) running the ball.
We saw a baffling throw from Mason on his interception and a dangerous telegraphed pass on Georgia's first drive that should have been picked off, but Mason deserves credit for two nice throws on the touchdowns to Conley. On the first throw, Mason had good protection, and he was clearly comfortable with his pocket. He took his time, stepped into the throw, and put it right on the money. The second score required a different throw, but again Mason was accurate and put the ball high and in front of the slanting Conley where only Chris could make a play on the ball. Conley did a good job to reach for the ball and snag it out of the air.
At any rate, the job remains the same: sustain drives and value possession. Georgia's 40% third down conversion rate in this game was actually an improvement on their season average, but it's still not good enough. It's still very much a feast or famine offense. Against Tennessee, Georgia didn't face a third down on any of their four touchdown drives. Against Vanderbilt, Georgia faced only one third down on their three first quarter scores.
Defense
The game started with a positive development: the defense forced a 3-and-out on the opponent's opening drive for the first time this season. It was an impressive series with an alert deflection by Sanders and a sack where Vanderbilt laughably left a tailback all alone to block Floyd. The defense started well enough to allow the Dawgs to jump out to a 21-0 lead and never allowed Vanderbilt the opportunity to get back in the game.
A game this lopsided doesn't provide many opportunities to test a defense's ability to make a stand, but there were a few important moments when the defense came through. The first was midway through the second quarter. Vandy had scored and forced a Georgia 3-and-out. They drove the ball inside of Georgia territory with a chance to make it a one-score game going to halftime. The defense forced consecutive incompletions and a punt. The Dawgs, thanks to Todd Gurley's arm, responded with another scoring drive and opened up a 20-point lead. I was also impressed with the defense's stand following Mason's interception. The Commodores only gained seven yards on six plays and had to settle for a field goal. The shift in momentum from a potentially game-changing interception was limited.
The pass defense wasn't flaming wreckage. That's what you'd hope for against a team playing inexperienced reserve quarterbacks that hadn't done much through the air all season. Bowman was beat deep to set up Vanderbilt's first score, but he more than made up for it by stepping in front of a horrible pass on a bizarre play. I'm really appreciating what Aaron Davis is doing – he's every bit an inexperienced walk-on, and it shows sometimes. He more than anyone personifies what's going on with the Georgia secondary this year. It's not enough that the Dawgs have to play a rookie walk-on in the secondary. It's that such a player had had to go from safety to cornerback and, against Vanderbilt, back to safety. That's a hard enough job for an upperclassman like Swann.
With Vanderbilt's own haplessness limiting their passing game, the focus turned to the front of the Georgia defense. It wasn't the best performance of the year for Georgia's front seven. The pass rush was largely ineffective after the first series (though I think a Toby Johnson tackle for loss later in the game should also be considered a sack.) There were some near misses, but few of Vanderbilt's issues throwing the ball could be credited to the Georgia pass rush.
More alarming was the run defense. Vandy is one of the poorest rushing teams in the nation at 111.3 yards per game. They netted 132 yards on the ground against Georgia. Not horrible, but above average for Vanderbilt. Ole Miss and Kentucky held the Commodores below average on the ground, and the Commodores had more success in both rushing and passing against South Carolina.
Vanderbilt never broke a long run – their best run went for 14 yards. The issue, and it was a fairly consistent problem, was missed tackles that let a short gain (or a tackle for loss) turn into a moderate gain. Rarely did Georgia drive a runner back. Excluding the sacks by Floyd and Johnson, the Dawgs posted only one tackle for loss against an offense they should have outmanned. All three Vanderbilt backs averaged at least four yards per carry. The Dawgs will face much tougher and varied running threats in the next two games – the spread attack of Missouri and the bruising power attack of Arkansas. Each presents a unique challenge to the defense, but the answer to stopping both teams starts with the same fundamentals – sound gap play and finishing tackles. The defense has some work to do there.
Punting
It's enough to say that Georgia's longest punt of the day was 38 yards – and that was with a stiff northwest wind at the punter's back. It was telling that Erickson got the opportunity for a non-pooch punt in the second half. At least there's one positive – the punt unit avoided the crippling error that opened the door for Vanderbilt to win in 2013.