Wednesday March 5, 2014
The SEC Women's Basketball Tournament returns to the Gwinnett Arena in Duluth from Wednesday through Sunday this week. Since it's right around the corner, we'll be there for most sessions. Follow @dawgsonline for updates from the arena.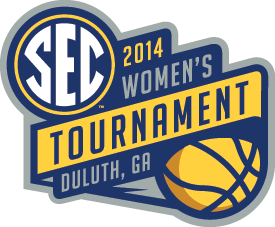 For the first time, all fourteen SEC teams will be involved in the tournament (Ole Miss held themselves out of the postseason last year.) With all teams participating, we'll have two play-in games on Wednesday evening involving the bottom four teams to kick off a grueling five days of tournament play.
Call it parity or something less kind, but this has been a year of upheaval in the SEC. South Carolina won their first conference title. Alabama showed signed of life under a new coach. Preseason favorites LSU and Kentucky faltered – Kentucky dropped six games, and LSU finished the season losing 7 of 8. Eight of the fourteen teams have between 6 and 8 conference wins, and 8-8 was good enough for fifth place. Even Tennessee lost three SEC games, but they only finished one game out of first place and topped South Carolina on Sunday. It's no surprise that this is the toughest conference in the nation, and the possibility of just about any of the top 10 seeds making a run should make for an interesting and entertaining tournament.
Few teams illustrate the turbulent state of the SEC better than Georgia. The Lady Dogs roared to a 12-1 start against a light nonconference schedule, but they dropped their first four conference games. They've spent the rest of the season fighting back to a .500 mark in the league but came up short. They found themselves in the middle of the pack with a number of tiebreakers against them – a win at Auburn a week ago would have earned them the fifth seed entering the tournament, but they spent Sunday afternoon sweating the possibility of falling into a Wednesday play-in game even after their impressive win.
Georgia's Path Through the Tournament:
Wednesday: Bye
Thursday / First Round: #9 Georgia vs. #8 Vanderbilt: Noon ET. SportsSouth
Friday / Quarterfinals: vs. #1 South Carolina: Noon ET. SportsSouth
Saturday / Semifinals: Noon ET: ESPNU
Sunday / Finals: 3:30 p.m. ET. ESPN
Complete Bracket Here
The Field:
1. South Carolina (14-2, 26-3): Dawn Staley's program has arrived. They made a Sweet 16 run in 2012 and made it to the Round of 32 a year ago. They navigated a fairly lightweight nonconference schedule and lost to their only ranked opponent, North Carolina. The Gamecocks rounded into form for conference play and dropped just one game in January and February – an overtime loss at Texas A&M. They had a number of close calls in January but won every game but one in February by double-digits as they reeled off a 10-game winning streak en route to the regular season title. Before falling at Tennessee to close the season, South Carolina was as high as #4 in the polls and a possible #1 NCAA Tournament seed.
The Gamecocks were picked to finish in the middle of the pack after losing some important seniors, but they've found success with a dominant frontcourt. Elem Ibiam and freshman Alaina Coates are outstanding posts, and junior forward Aleighsa Welch is the leader that has stepped up on a team with only one senior. Opponents can't afford to focus only on the frontcourt; sophomore guard Tiffany Mitchell leads the team in scoring and has emerged as a go-to player. Staley's teams have always been noted for the defensive toughness that mirrors the personality of their coach, and now they have a little bit of firepower to go along with the defense.
2. Tennessee (13-3, 24-5): Despite slipping from the national elite, Tennessee is still a high-performing, talented, and impressive team. South Carolina's rise might've overshadowed a solid season by Tennessee, but this is a program that won the regular season title a year ago and just ended South Carolina's winning streak. The Lady Vols know how to play under the pressure of a tournament, and they'll have their usual army of fans to make the arena a virtual home court. There's no reason not to consider them every bit as much of a favorite as South Carolina.
The Lady Vols look to their lone senior, guard Meighan Simmons, not only for scoring but also for the emotional intensity that fuels everything for which Tennessee is known. Tennessee's identity is nothing new to SEC fans: they shoot well, play frenetic defense, and control the glass better than anyone in the conference. Starting point guard Ariel Massengale is doubtful for the tournament after missing the past ten games with an injury, but they've adjusted to life without Massengale just fine. Tennessee has won 10 of its last 11 games. Sophomore Andraya Carter has handled the point guard duties well. They can look inside to Isabelle Harrison for scoring and rebounding, and Burdick and Graves can be dangerous from the wings.
3. Texas A&M (13-3, 23-7): If it's possible for a top-tier SEC team to be anonymous, this is the one. A&M won the national title a few years ago, won the SEC Tournament last season in the school's first year of membership, are only one of two teams to beat South Carolina, and you have to remember to list them among the favorites to win this year's tournament. They fell off the radar by losing four games – including some head-scratchers – in nonconference play, but in conference they've been as strong as anyone. There's no shame in any of their three conference losses, and they have several quality wins.
Things have been a little tougher in the post-Kelsey Bone era, and the Aggies have survived a number of close calls. Senior Karla Gilbert has taken over for Bone inside, and JUCO transfer Achiri Ade adds some muscle and rebounding power to the frontcourt. A pair of Courtneys at guard, Courtney Walker and Courtney Williams lead the team in scoring. The team doesn't shoot a lot of three pointers and hits under 30% from outside, so they rely a lot on penetration from the guards with PG Jordan Jones leading the league in assists. This is also a sound defensive team and can score in transition. They'll be a tough out, and there's potentially a Saturday game against Tennessee in a rematch of the 2013 semifinal that bounced the Lady Vols.
4. Kentucky (10-6, 22-7): It's been an inconsistent season for what has been one of the SEC's stronger programs. They have wins over Baylor, Tennessee, A&M, and Louisville, but they've also been swept by Florida, lost to Alabama, and sweated out wins over Auburn and Mississippi State. There's no question that the team misses A'dia Mathis, the sparkplug during Kentucky's rise to prominence. Scoring can be at a premium at times, especially from the backcourt. Guard Jennifer O'Neill comes off the bench to lead the team in scoring, but it's tough to wear the go-to label that Mathis wore so well. The Cats have a pair of long, athletic forwards in DeNesha Stallworth and Samarie Walker who seems like she's in her 9th season. The trademark frenetic Kentucky defense is still a factor, but this team's ability to advance will depend on their offense. Awaiting them on Friday could likely be a team that's already posted two wins over Kentucky this year.
5. Florida (8-8, 18-11): A sweep of Kentucky was enough to separate Florida from the rest of the pack in the middle of the standings and into the #5 seed. Aside from a trip to the NCAA Tournament in 2012, Florida has been a perpetual bubble team. They're back in that position again in 2014. Their finish in the SEC helps their case, but it hasn't helped that they've lost 5 of 7 down the stretch. Florida's games are likely to be high-scoring. They can get up the court on offense and don't play especially great defense. Senior and leading scorer Jaterra Bonds personifies their style: she prefers not to shoot from outside but is very effective scoring and creating off the drive. It's not a given that they'll get past their opener, but if they do they might have to beat Kentucky for a third time to end any bubble talk.
6. Auburn (7-9, 16-13): Tiebreakers move Auburn to the front of the 7-9 pack. Terri Williams-Flournoy showed progress in her second season, but they're still not to the point where a spot in the quarterfinals is a sure thing. The Tigers dropped four in a row to end January, but they won 5 of 7 before losing the season finale to Ole Miss. Auburn features tall guards that create both matchup problems on offense and a defensive press that's tough to break. As a result of that press, Auburn leads the league in steals and relies on transition to create much of their offense. Senior forward Tyrese Tanner leads the team with over 17 points per game, and she gets help from freshman guard Brandy Montgomery.
7. Alabama (7-9, 14-15): It's quite an achievement to see Alabama back in the top half of the standings. The Tide had been at or near the bottom of the conference for several seasons before gaining significant ground this year. Bama brought in accomplished coach Kristy Curry after successful stints at Texas Tech and Purdue, and the results have been immediate. The season started off slowly, but the Tide broke through in a big way with consecutive upset wins over Kentucky and Georgia. They've since added noteworthy wins over Venderbilt and LSU and have won 3 of 4 entering the tournament. Senior Shafontaye Myers leads the way, but it's a balanced attack with two other players averaging in double figures. They're punching a bit above their weight – Bama is at or near the bottom of most SEC offensive stats – but to their credit they've found a way to get to seven wins. Now can they get past a desperate LSU team in the tournament?
8. Vanderbilt (7-9, 18-11): SEC fans by now are very used to Vandy's pesky, annoying, and very effective style. It's no surprise that Melanie Balcomb's roots go back to the Princeton system; other SEC teams like to run, but Vandy executes a disciplined and precise halfcourt offense. That offense is paced by two senior guards, Christina Foggie and Jasmine Lister. The two are among the tops in the SEC in both scoring and minutes played. The load on those two guards will be even greater now that sophomore forward Heather Bowe has been suspended for academic reasons. Bowe only scored 5 points per game but was second on the team in rebounds and started over 20 games. Even without Bowe, Vandy was still almost able to win at Kentucky in the last game.
In the SEC opener against Georgia, Vanderbilt broke open a close game in Nashville with a late run. Georgia led with just over 6 minutes left, but a 14-5 run put the game away. Georgia has been hit-or-miss in close games for much of the season, and the play down the stretch by the seniors Lister and Foggie in that meeting provided a sharp contrast in poise. Vandy will be hurt by the hit to their frontcourt depth, but will they have the mental advantage again in another close game?
9. Georgia (7-9, 19-10): With losses to three of the four other teams that finished 6-9, the Lady Dogs slid to the #9 seed. The four losses to start the season dug a deep hole, and the team could never find enough momentum to claw back above .500. That job was made more difficult by the team's performance on the road. The Lady Dogs won just 1 of 8 conference road games (Florida), and the 6-2 home mark wasn't enough to overcome it. That lack of focus on the road might be the sign of a young team; there are only three regular players who are upperclassmen. Finding the leadership and go-to players under those circumstances has been an ongoing experiment made more difficult with the loss of an accomplished senior class from last season's Elite Eight team.
When Georgia is at their best, they are hitting jumpshots within the flow of the offense, getting contributions from the forwards, and creating transition opportunities with stifling defense. When they've struggled, they rush shots, become stagnant around the perimeter, and commit scores of unnecessary fouls. Fouls on both ends have been an adventure for the team all season – they are at the bottom of the SEC at free throw shooting, and forwards in particular have been prone to a rapid accumulation of fouls.
While forward Merritt Hempe certainly can have the occasional big night (she just outplayed Mississippi State's Alwal), Georgia's identity on offense rests with the guards and wings. Shacobia Barbee leads the scoring, but on a given night the team is just as likely to be led by Erika Ford or Khaalidah Miller or Tiaria Griffin. Miller spent her first three years as an outside specialist, but she's had to take over point guard duties as a senior. Ford has emerged as a clutch scorer, and the team has started to look to her down the stretch when they need a basket. Barbee isn't just the team's leading scorer; she leads in rebounds, steals, and is just one off the team lead in assists. Griffin comes off the bench but is capable of instant offense and quick hands on defense.
It's tough to read Georgia's chances in the tournament, and that's been the story of the season. They haven't done all that well against their neighbors in the standings, yet they swept Florida, beat Kentucky and LSU, and took A&M to overtime. Is that a focus thing? If they need motivation, their tournament opener against Vanderbilt is a must-win: it would get them to 20 wins and add another quality win to the ledger. But they'll have to overcome their lack of success away from home and find a way to contain the most experienced guard duo in the league.
10. LSU (7-9, 18-11): No team heads into the postseason with worse momentum. LSU defeated West Virginia, NC State, and Tennessee early in the season, started SEC play 6-2, but have since lost 7 of their final 8 games. It's usually the case for LSU that there are strengths at a couple of positions and a weak supporting cast, and this team falls into line. Forward Theresa Plaisance is versatile enough to do damage inside or outside. Jeanne Kenney is a dangerous streaky shooter. After that, there's just not much consistent production. Freshman guard Danielle Ballard has faded. Defending Plaisance and Kenney is easier said than done, but teams have figured out that they're in good shape if they can limit the damage to those two. The team has plenty of fight and nearly came back from big deficits against both Georgia and Tennessee. They ended the season with a bad 78-60 loss at Alabama, and they'll get a chance to get that taste out of their mouth with their first round rematch against the Tide. They're still a darling of the computer metrics, but they really could use another win to feel a lot more sure about their postseason chances.
11. Arkansas (6-10, 19-10): How soft was Arkansas' nonconference schedule? They went a perfect 13-0 and didn't merit a spot in the polls. That's not to say that this isn't a dangerous team. As the SEC's leading scoring defense, they're often able to keep games close enough to have a chance to win. They went 2-6 to start SEC play but lost those games by an average of just six points. Since then they've finished 4-4 but haven't been able to put together consecutive wins. It's rarely a good sign when your leading scorer is a freshman, but wing Jessica Jackson has had an outstanding freshman season and averages over 16 points per game. Senior Keira Peak sets the tone for the team's formidable defense.
12. Missouri (6-10, 17-12): Missouri lives and dies with the three-pointer. Last year they set a school record with 253 made three-pointers. They eclipsed that total this year with 277. They attempt over 25 three-pointers per game and are knocking them down at a 37.6% clip. That's been enough to carry them to wins over Georgia, Vanderbilt, and Florida, but it hasn't moved them further up the standings. Watch for Bri Kulas, Morgan Eye, and Morgan Stock to bomb away.
13. Mississippi St. (5-11, 18-12): When you watch this team play, you'd expect them to finish higher than they did, but the wins never came. There were some successes against Georgia and Vanderbilt, and they came within four points of Tennessee. Martha Alwal is one of the better post players in the conference and can score as well as block shots on the other end. MSU is at their best when the inside-outside game is working well, but they need more consistent perimeter play. If their press defense is working, life can be difficult for opponents.
14. Ole Miss (2-14, 11-19): Following a year of turmoil that left them ineligible for the 2013 tournament, the Rebels are back. First-year coach Matt Insell has a rebuilding job ahead of him, and he's trying to import some of the Kentucky philospohy to Oxford. They have the speed to get up and down the court with anyone, and an overtime win over Auburn is a nice way to head into the postseason. Senior Valencia McFarland is a creative guard, and Tia Faleru leads the conference in rebounding. They're not an automatic out in the play-in game.