Friday November 19, 2010
If you ever get the itch to climb Mount Everest, chances are you'll fly into Tenzing-Hillary Airport in the mountain town of Lukla, Nepal. As you might imagine, flying into an airport at 9,100 feet elevation comes with certain risks. Unpredictable weather, mountainous terrain in the area, and high winds can all make the flight in about as much of an adventure and risk as the ascent of Everest itself.
There's also this: there's only one usable end of the single 1,500-ft. runway. The "open" end of the runway is bad enough – there's a 2,000 ft. drop at the end of it. But it beats the other end of the runway which is pretty much built into the side of a mountain. You can't approach to land from that direction, you can't take off in that direction, and your landing attempt coming in the other way had better work, because there is no going around for another try. The runway actually ends at a stone wall cut into the mountainside.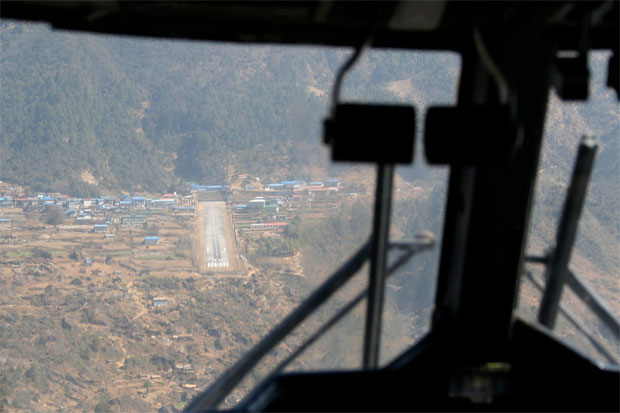 If you look at that picture, you can see where they must have come up with the field alignment at Wrigley Field for this weekend's Northwestern-Illinois game. When they laid the field out, they used every inch of space…right up to ending the east end zone up against the famous ivy-covered brick wall. Pundits have spent most of this week wondering when, not if, some receiver going at full speed would have his post pattern cut short by masonry.
It's amazing that it took until the day before the game to do something about the potential danger of the east endzone, but the right decision has been made: as with the Lukla Airport, only one endzone will be operational for this game. The team on offense will always drive towards the west end zone, and the teams will flip-flop after each change of possession. The only time the east end zone could come into play is on a defensive score, and the back boundary of the end zone isn't likely to come into play then (at least we hope not).