Thursday August 5, 2010
The Denver Post sensationally reports tonight that "CU football ticket system hacked by Georgia fans, school says."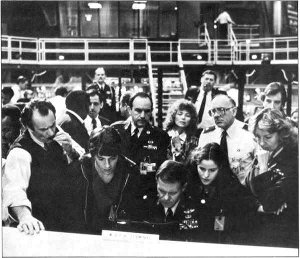 Colorado's 2010 motto: The only winning move is not to play.
Hacked?!?! What happened? Did some enterprising Georgia fan crack a password and start playing Global Thermonuclear War on the CU ticket system? Are they sure this wasn't a bitter Georgia Tech fan seeking revenge for 1990?
Nope. A promotion code ("1990") was issued by the Colorado ticket office and "intended to be used only by members of Colorado's 1990 national championship team which will be honored at the game as part of its 20-year reunion." With all the security of "hey, guys, here's a promotion code you can use for tickets," CU gave ticket buyers a way to purchase single-game tickets to the October 2nd game. That's valuable information because the only other way to buy tickets is through a three-pack. Colorado, seeing a fine opportunity to stick it to their Georgia guests, does not offer single-game tickets to the general public for only this game.
Of course that code soon found its way outside of the tight circle of Colorado's 1990 national championship team, and it was soon spread across the Bulldog nation via message board and e-mail. Pretty cloak-and-dagger stuff, right? So by using this code, and entering it in a promotional field that had zero authentication or validation, Georgia fans started buying tickets without being extorted for the three-game packs. These Georgia fans almost surely had no idea of the intent of the promo code, and I doubt they cared – the code worked, the orders were processed, and all was good until the loophole was closed.
Colorado officials were not amused. Rather than owning up to their mistake and honoring the tickets bought legitimately through their system, they have deemed these purchases "fraudulent." All 123 tickets ordered using the code will be invalidated. If you bought tickets using this promo code, tear them up.
If you're a Georgia fan still looking for tickets to the game, Kanu's advice is solid. Patience is still a good policy. But if you do decide to go "hacking" again, remember your way out: tic-tac-toe with zero players.