Thursday July 1, 2010
As we expected, the final NACDA Directors' Cup standings for 2010 were released today. Georgia was in 17th place pending the baseball postseason, and the Bulldogs ended up being passed by Texas, LSU, and Minnesota in the final rankings. As Marc Weiszer reports, the 20th place finish is Georgia's lowest since 1997.
The trend isn't good, but it's not like football or men's basketball was in that much better shape during Georgia's better Directors' Cup finishes. The drop-off has more to do with sports like gymnastics and the spring sports that have usually contributed to Georgia's more successful years. The Bulldogs have had several national titles and second-place finishes in football and baseball during this "slide", so it's not like the wheels have come off the program.
But a drop into the 20s wasn't going to be a great bit of news for athletic director Damon Evans. If only that were the worst thing he'd face today.
UGASports.com dropped a bombshell when they reported this morning that Evans was arrested last night in Atlanta for DUI and was released on bail from the Atlanta city jail. Other Atlanta media have since confirmed, and Fox 5 was able to provide this stunning mugshot: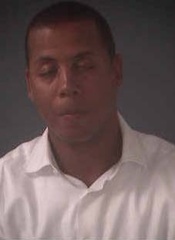 The facts seem to be these: Evans and an unnamed passenger were pulled over around 11:55 p.m. at Roswell Road and Chastain Drive in Atlanta. He refused a Breathalyzer test at the scene. Evans was charged with "charged with DUI and driving in an improper lane" according to the UGASports.com report, citing an Atlanta City Jail spokesperson.
Evans is headed back to Athens, and it will be a very interesting afternoon. WSB-TV reports that "UGA President Michael Adams said he would make a statement "soon."" I'd be surprised if this led to Evans' dismissal, but you never know – there are sure to be more details to come. There will also naturally be questions about Evans' ability to lead a program that's seen more than its share of alcohol-related incidents over the past few years.
At the very least, it's definitely going to make that second half DUI public service announcement a little awkward.
UPDATE: A press conference is scheduled for around 6:00. Meanwhile, the identity of the car's passenger has been released, and it's not at all good news for Evans.