Friday January 15, 2010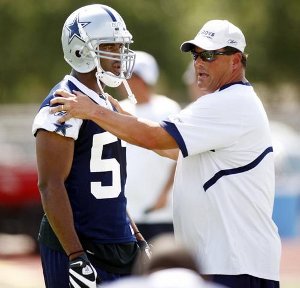 Photo: Dallas Morning News
Tom Dienhart, national senior college football writer for Rivals.com, is reporting that Dallas Cowboys defensive line coach Todd Grantham has signed to become Georgia's defensive coordinator. According to Dienhart's Twitter account,
Grantham's deal is signed. it is for 3 years. he will be third highest paid DC in the nation.
Of course this announcement is just the beginning. Just a few of the questions we'll be asking:
There are still two other openings on the Georgia defensive staff, and Grantham figures to have input on those vacancies.
It also remains to be seen if Grantham will remain with the Cowboys during their NFL playoff run.
Given Grantham's background as a defensive line coach, it also will be interesting to see how those duties are allocated between he and Rodney Garner.
Grantham has experience with a 3-4 defensive alignment, but will he bring that look to Georgia? Do the Dawgs have the personnel to run a 3-4?
You'll learn plenty about Grantham over the next few days, but start with the Grantham bio on Wikipedia. He has both college and pro experience, and he's worked with both Frank Beamer and Nick Saban. The Leather Helmet Blog also has comprehensive biographical information. If you're a Rivals.com subscriber, don't miss this endorsement from Beamer.
Grantham has been defensive coordinator one other time in his career. From 2005-2007, he was the defensive coordinator for the Cleveland Browns – a position he chose over interest from Nick Saban in Miami. He got results, but he was fired after a disappointing 2007 season under some strange circumstances.
I won't consider this over until he actually shows up in Athens, but it's a relief to start to see the end of the process. I don't care about the snark and hand-wringing from the Atlanta media, but some concrete news is important with fewer than three weeks left until Signing Day. We'll see how Grantham (and, soon, the rest of the staff) play on the recruiting trail, but at least Mark Richt now has an answer for those questions.