Wednesday January 13, 2010
Lane Kiffin, Norm Chow, and Ed Orgeron are all reuniting at Southern Cal. Will it turn out to be a pretty successful reunion along the lines of the Eagles or will it be more like David Lee Roth rejoining Van Halen?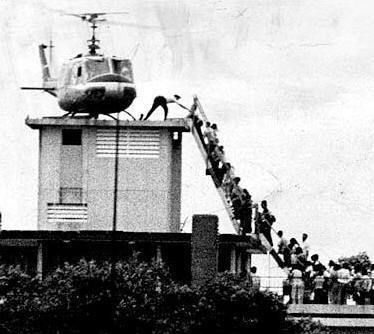 Lane Kiffin and staff escape in the recruiting helicopter
to avoid the rioting masses in Knoxville.
I'll start with a more serious thought – instead of rioting or protesting, Tennessee fans and students should be partying. They'll take a hit in the short term, but it pains me to say that they'll be better off without Kiffin than they would have been with him. Put it this way – after everything shakes out I would wager that Southern Cal is looking for their next coach before Tennessee is. We know from boring stability here at Georgia, and – while it has its pitfalls – it's not all bad considering.
My first thoughts upon hearing the news went right to two people: JaWuan James and Lance Thompson. James is a standout offensive lineman at North Gwinnett who committed to Tennessee over Georgia. I have no idea if he'd reconsider, but he'll have to make a decision soon: James is one of several early enrollees already on campus, and classes are set to begin. There are (unconfirmed) reports that those early enrollees would preserve their eligibility and be able to sign with another team if they don't begin attending classes. Ed Orgeron is certainly working that angle as he tries on his way out the door to poach several of them. No doubt the door would still be open for James at Georgia; he's one of the nation's best prospects at a position of need for Georgia.
As for Thompson, the Georgia native was Tennessee's linebackers coach and has been a successful defensive coach for several area programs. Yes, he has a long relationship with Georgia Tech, and it will be interesting to see whether Paul Johnson puts Al Groh on hold to consider the availability of Thompson. I don't think Thompson would be a candidate for the defensive coordinator position at Georgia, but he'd be a slam-dunk upgrade as linebackers coach. We don't know whether he's been offered a chance to head west with Kiffin, but his background, family, and recruiting contacts are all here in the southeast. He might not even leave Tennessee. There's a timing issue also – Georgia has floated the idea that the new defensive coordinator will have input on the other defensive coaching vacancies, and Thompson might be off the market by the time Georgia settles their coordinator search (all the more reason to wrap that up ASAP).
I was waiting for HeismanPundit to weigh in on this story, and he doesn't disappoint. No one has sounded the alarm about Kiffin louder.
One of my favorite observations last night came from Chris Brown of Smart Football. "Anyone else find it weird that thse all star USC coaches all are back, but now under Kiffin instead of Carroll?" Think that's a pretty important detail?
Then there's the classic message board comment: "Like getting a divorce from a stripper."
Of all the names that are floated for the Tennessee job, David Cutcliffe strikes the most fear into the hearts of Georgia fans. We know why. I think we can relax though. First, I'm not so sure he gets the call, though he probably should. Other than it being unseemly to leave a program after one year (ahem), why didn't they go after him when they had an opening last year? Is his health still a consideration? Also, Cutcliffe the coach seems to have slightly less juju over Georgia than Cutcliffe the coordinator.
Along those lines, it's not 2004 anymore. I understand why fans are excited to have Norm Chow back at Southern Cal, but his star seems to have faded somewhat from those glory days. You can blame the players and situations around him over the past five years, but then you'd also have to admit some pretty poor career decisions.
And finally…as angry as people are in Knoxville, they're not too thrilled in L.A. either.
Exaggeration or not, I believe this will be the one thing I remember about this story: