Friday October 9, 2009
1. Is the absence of Dowtin and Dent going to be more important than we think? When you consider what Tennessee does best on offense – run the ball, screen passes, and short-yardage passes – not having two of your better linebackers available seems to be a pretty big deal.
2. "What's wrong with Georgia's special teams?" is a topic that can and has been discussed all week, but there's one area I'll focus on here: punt returns. Georgia's 2001 and 2005 wins in Knoxville each featured a Georgia punt return for a touchdown. In 2001, that Damien Gary return enabled Georgia to get back off the carpet from an early deficit and prevented the game from following the script of so many trips to Neyland. Thomas Flowers' return in 2005 came in a tight 13-7 game and gave a strong Georgia defense the cushion it would need to close out the game. Are the days of Flowers and Mikey Henderson that far gone? Did the fake punt by South Carolina rattle Georgia that much?
3. Is it likely that another big return will help Georgia this year? Not if current trends continue. The Dawgs are so frozen in nearly every element of special teams that even once-explosive units like punt return are stuck with trotting out a backup quarterback to field fair catches because "Georgia is using essentially its regular defensive unit to prevent a fake." I understand situations where you'd want to play the fake, but it was disheartening to see Prince Miller call for the fair catch after LSU punted from its own goal line to start the second half.
4. Which development is going to make a bigger difference in the game – Washaun Ealey or Tennessee's higher-tempo offense? Ealey was credited with being a second-half "spark" for the Georgia offense. (What does it say about the state of the Georgia running game that ~30 yards and a 4 YPC average is enough of an improvement to stand out?) Meanwhile Tennessee got things going with a little more pace towards the end of the game, and the words "no" and "huddle" are getting thrown around a bit this week in Knoxville. Then again, Tennessee's success with an up-tempo offense came with the game pretty well in hand.
5. How many college players are being mentored or otherwise involved with Deion Sanders? Sanders has been a mentor and spokesman for former Texas Tech receiver Michael Crabtree. Sanders also nearly became the legal guardian of Noel Devine. Now he's at the center of the Dez Bryant eligibility issue. I don't question Deion's motives or claim he's doing anything but looking out for some guys with very troubled backgrounds, but all we need now turning up in related stories is M.C. Hammer. What's that you say?
6. Is the kickoff scheme so complicated that even Georgia's best players can't get it right? Richt talked about the experience and youth factor on kickoff coverage, but was that the problem on Georgia's last flawed kickoff? For starters, junior linebacker Rennie Curran appeared to go the wrong way and was the cause of the formation penalty. That left the Dawgs shorthanded on the right side of the field with just three players – Prince Miller, Baccari Rambo, and Nick Williams. Rambo and Williams aren't the most seasoned Bulldogs, but they're not exactly freshman walk-ons either. I don't know where Blair Walsh was supposed to put the kick, but it was relatively deep (it would have been fielded on the 2 or 3 were it a normal kickoff), and the ball went to the center of the field from the right hash. It didn't take long for the returner to head left towards the sideline where Georgia was shorthanded essentially putting most of Georgia's coverage unit behind the play.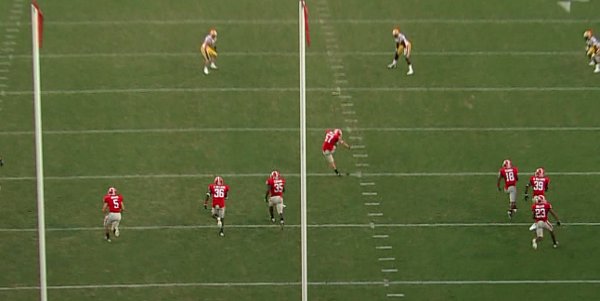 Assuming that Walsh didn't put the ball exactly within the 3-inch landing zone prescribed by the strategy, two of the bigger mistakes on the play were made by 1) Georgia's starting placekicker and 2) the SEC's leading tackler. Is that really a question of experience?
7. Does the relative success (and I use that term very loosely) of Ealey play into the discussion of what's wrong with the offensive line and specifically run blocking? I don't mean to imply that the blocking has been there all along, but were the struggles of King and Samuel really mostly to do with the line?
8. Is this the week Crompton puts it together? Every pessimistic prediction this week has had a variation of this: "Our defense and Willie are going to make Crompton look like Joe Montana this week." The problem with Crompton though hasn't been one of coverage. He's had his open receivers, and the broadcast of their Auburn game took pains to point out the open underneath crossing routes. Crompton just isn't hitting them, or they're being dropped. It's possible that this is the week that he finally starts hitting open receivers in stride, but that would have a lot more to do with Crompton than the coverage. If Georgia's pass rush continues to show signs of life, it's reasonable to expect that passing game to continue to struggle.
9. Has Georgia had a touchdown drive this year without a play or return of 20+ yards involved? David Hale digs up the fact that "well over half of Georgia's drives are five plays or less," and those include a few scores. If you wonder why the offense bogs down for stretches, consider how feast-or-famine things have been. Of course sustaining drives goes back to the running game…
10. Does the news of Dez Bryant's ineligibility affect Georgia? Heismanpundit thinks so – at least indirectly. Whether or not Bryant is able to regain eligibility, HP speculates that the incident "probably narrows the Biletnikoff Award field [for the nation's top receiver] to Golden Tate, Eric Decker and A.J. Green."