Wednesday September 23, 2009
The big news would have been a decision to disrupt the tradition of the Georgia-Florida game in Jacksonville, but the UGA Athletic Association Board of Directors approved Damon Evans' recommendation to negotiate for a continuation of the series at its current location through 2016.
The ABH also notes via its Twitter feed that "the team will begin flying direct from Athens to Jacksonville," cutting out the bus trip to Atlanta and making the overall trip that much shorter.
In addition to the WLOCP news, funds were approved "to develop plans for two facility enhancement projects." Both fit into a master plan outlined by the Athens Banner-Herald a year ago.
Basketball fans will be glad to hear that one of the projects was "a Stegeman Coliseum concourse renovation and expansion." Anyone who's been inside the Coliseum could tell you how badly this project is needed. The inside seating area has been addressed over the years and isn't all that bad, but the concourse and entryway haven't received much more than a coat of paint and new signage. The rationale behind the project is laid out well by PWD here – note the use of glass walls in the conceptual drawings that will widen and brighten up the concourses.
The project is also a sign that a tear-down or major renovation of Stegeman isn't coming any time soon, but we knew that. This news follows through on Dennis Felton's claims last year that "Damon Evans wants to renovate Stegeman sooner rather than later."
The other project is "a project behind the north stands of Sanford Stadium that would provide a multi-function amenity supporting both the game day event and the campus on non-event days." The idea of "Reed Alley" has been talked about for over seven years now, and it was part of the plans for the 600-level expansion of Sanford Stadium earlier this decade. The idea involves improving the area between the stadium and Reed Hall, using it as a wide pedestrian mall connecting East Campus Rd. and the Tate Center during the 359 days without football, and then using it as a wide open lower-level concourse on game days with vendors and such. The 600 level was built with this area in mind, and this project will be finishing off the vision.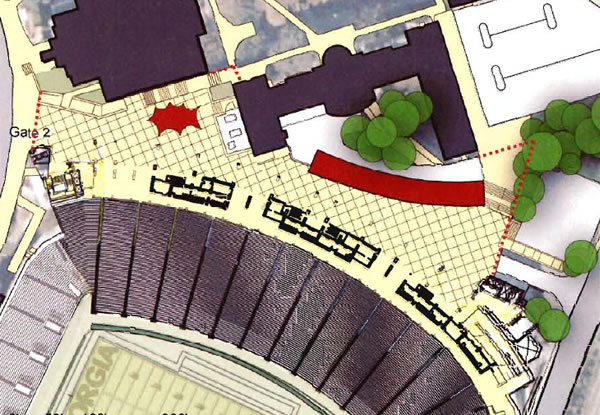 Location of Reed Alley