Saturday June 20, 2009
We noted earlier in the week that there was some uncertainty about the broadcasting crews in the wake of Georgia's record marketing and broadcast deal with ISP Sports. Damon Evans has cleared up at least the biggest question: Scott Howard and Eric Zeier have been named the permanent broadcast team for Georgia football.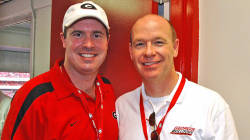 "This is a proven broadcast team," said Evans. "Scott is a Bulldog calling Georgia Bulldog games. He's been one of our radio personalities going on 20 years and has done an exceptional job with all the Bulldog sports he has broadcast over a long period of time. Eric gives us not only a former Bulldog player but the special analysis that a former quarterback can bring to the table."
I think this was the best possible outcome. Short of someone like Brad Nessler, I wasn't too keen on someone with few ties to the Dawgs coming into the broadcast booth. People might have stylistic issues with Howard, but he's a comfortable and familiar voice to guide us through Saturdays. Zeier's taken to the role of analyst quickly and definitely adds something to the broadcast that had been missing.
Evans' announcement still leaves some questions unanswered. The personnel for the pregame and postgame shows, sideline reporting, and crews for other sports are still unannounced.