Thursday June 4, 2009
The University of Georgia officially opened the Tate Center Expansion this week, and the building promises lots of additional meeting and event space, services, and amenities for students (at a $60 million price tag). A more formal ribbon-cutting will take place later in the summer.
That's great for the students, but as selfish alums and football fans, what's in it for us? Several things:
Lots of additional indoor space near the stadium in which to hang out on game day. Large open areas seem ready-made for a large crowd waiting for a football game. "The Tate addition is so football-friendly, one student exploring the expansion wondered out loud if the building were designed with football Saturdays in mind."
While you're inside staying cool or just killing time before the game, check out the 24-foot projection TV screen in the third-floor lobby. If you can't make it into the game, they'll be showing it on this screen. Yes, 24 feet of Gameday goodness.
Several hundred parking spaces were lost when this construction took away the better part of the Stegeman Hall parking lot, but this facility includes a 508-spot parking deck that will surely be used for premium (and perhaps handicapped) parking on game days.
One other effect of the Tate expansion will be to refocus the Dawg Walk. We've looked before at how this building will play a role in the continued revitalization of the central campus. Though the project is nowhere near complete, a future Alumni Development Center between the Tate Center and Lumpkin Street as well as an "Alumni Quad" between the two buildings will form the heart of a central campus park complete with a Dawg Walk Overlook. The sketch below shows where this is (tentatively) headed.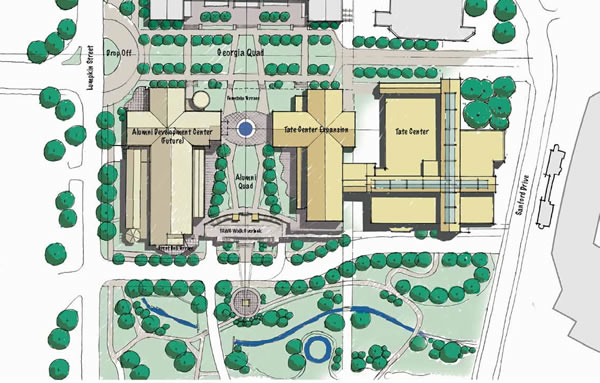 Click for a much larger version.