Thursday May 21, 2009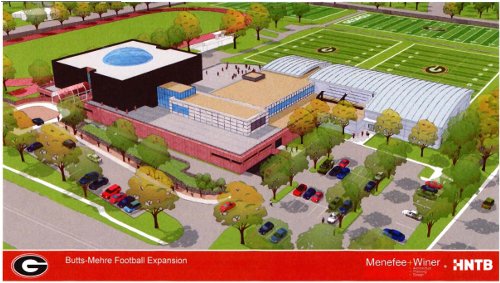 The athletic board today approved almost $40 million to begin expansion of the Butts-Mehre facility this summer. The project could take as long as two years to complete.
For preliminary plans of the expansion, download this PDF that the Georgia Sports Blog posted last year. What's Georgia going to get for $40 million?
A new 12,000 square foot strength and conditioning area, a training room of 8,500 square feet, new football coaches offices and a multipurpose room with a turf field that will be used for both drills and walk-throughs by the football team and be converted for receptions and other hosting functions.
To be clear – this is not an indoor practice facility. If you look at the plans, the "turf field" described above isn't but about 20-25 yards deep. It'll just be an area where the team can duck inside on a bad weather day and still get something done. As Marc Weiszer reported in early 2008, any attempt a proper indoor practice facility would likely happen down the road at the sports complex on South Milledge Avenue beyond the bypass. We've known for some time that Coach Richt prioritized this project above an indoor practice facility, and Damon Evans indicated that other projects will still maintain priority over an indoor facility.
The biggest impact of this expansion will be in the additional weight room / training / conditioning / rehab areas. The added space for sports medicine will be very welcome.
Funding for the project is expected to come from a mix of private donations and new debt. The Athletic Association will reach into its deep pockets to get the project underway, and they'll be repaid as the private donations come in. It's noteworthy that even in these tough times the Athletic Association plans an 11.2% increase in revenue for the 2010 fiscal year. Hartman Fund contributions are down a few million dollars, but income from the new SEC television deal will more than cover the projected drop in donations.
No word yet on the biggest question – what's the temperature setting going to be for the turf practice space?