Sunday February 1, 2009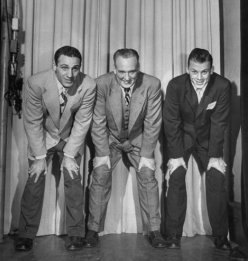 Trippi (L), "Red" Grange, and
Charlie "Choo Choo" Justice (from LIFE magazine)
A familiar name is all over the news this week. One of the big storylines in this year's Super Bowl is the return of the Cardinals franchise to the league championship for the first time since 1947. The star of that 1947 Chicago Cardinals squad was of course Georgia's own Charley Trippi.
This sentence says a lot about what kind of player Trippi was. Remember that during this 1947 season the future Hall-of-Famer was a rookie.
Never was Trippi more magnificent than in the 1947 NFL Championship Game when the Cardinals defeated the Philadelphia Eagles, 28-21. Playing on an icy field in Chicago, Charley wore basketball shoes for better traction and totaled 206 yards, including 102 yards on two punt returns. He scored touchdowns on a 44-yard run and a 75-yard punt return.
Have you ever seen Trippi in action? Bear Bryant called him the greatest college football player he'd seen. The UGA Libraries Walter J. Brown Media Archives & Peabody Awards Collection has a pair of videos from the Trippi-era Bulldogs of the 1940s.
The best is from the 1947 Sugar Bowl, a 20-10 win over North Carolina and Trippi's last game as a Bulldog. Trippi played the entire 60 minutes of the game on both offense and defense. Though John Rauch was the quarterback (and a damn good one), Trippi threw the 67-yard touchdown pass that put Georgia up for good. In fact, in the first five plays of the game, Trippi runs the ball, passes the ball, punts, and makes a tackle.
The second Trippi-related video is a silent movie from the 1943 Rose Bowl. Trippi and Frank Sinkwich led Georgia to a 9-0 win over UCLA.