Thursday November 13, 2008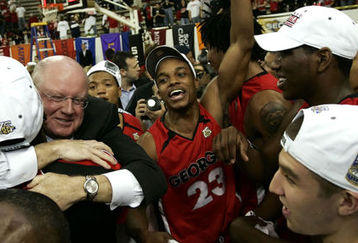 Your defending SEC Tournament champions open the 2008-2009 season this Friday night. Sounds good to say, doesn't it?
But like the tornado which triggered the unforgettable championship weekend back in March, the whirlwind finish of last season is a distant memory. It's back to work for Dennis Felton's squad, and they'll try to make progress against an incrementally tougher schedule and looking to replace their starting backcourt and two leading scorers from a year ago.
Departures
It was a treat getting to watch Sundiata Gaines for four years, and he'll be missed. He did many things well, but of course the most important was his ability to create offense when the halfcourt set broke down. That was usually a blessing, but it was also sometimes a curse as the offense stagnated and waited for Gaines to take on four defenders by himself. Center Dave Bliss was the other senior, and, to borrow a phrase from Dennis Felton, it was gratifying to see a healthy Bliss emerge as a quality player and leader towards the end of the season. The bad news is that his eligibility ended just as he came into form.
Two players are no longer with the program for other reasons. Guard Billy Humphrey was dismissed in June, and forward Jeremy Jacob left the program over dissatisfaction with his role.
The departures leave the Bulldogs without their leading scorers from a year ago (Gaines and Humphrey). They also leave the Dawgs very thin and young in the backcourt without much proven scoring ability.
Arrivals
As the Dennis Felton era continues, you hope each subsequent recruiting class is better than the last, and that seems to be the case this year. Georgia has added quality freshmen up front, on the wing, and in the backcourt.
The highlight of the incoming class is dynamic forward Howard Thompkins. He'll be counted on to contribute immediately at a spot that's already a strength of the Georgia team. Thompkins brings a developed offensive game to Athens with the ability to shoot the jumper or get position and score in the post.
Drazen Zlovaric will be an interesting addition on the wing. The Serbian native will bring a little European style to the team and can play away from the basket. His size and athleticism will be a unique matchup for opponents.
Dustin Ware is the heir apparent at the point guard position. Travis Leslie, at 6'4", is a little small to play the 3, but his athleticism is his calling card. Leslie probably won't be the answer when it comes to outside shooting, but he is a leaper that can attack the rim and throw down some impressive dunks.
Guard Ebuka Anyaorah was expected to be a sharpshooter from outside, but he's already been scratched for the season with an injury.
Returning Players
The strength of Georgia's returning players lies up front. Forwards Jeremy Price (8.1 PPG, 4.4 RPG), Albert Jackson (7.4 PPG and 6.4 RPG over the last 20 games), and Terrance Woodbury (11.0 PPG, 33% 3PT, 4.1 RPG) will be the core of this season's team and can match up with most frontcourts in the SEC. Chris Barnes (2.6 PPG, 2.2 RPG) also returns from an injury-plagued freshman year to provide depth down low.
The returning players in the backcourt were supporting cast members last year. Corey Butler (3.0 PPG) made a name for himself with high-energy defense and some timely shots. Zac Swansey (3.9 PPG) was one of the heros of the SEC Tournament, and he'll take on a much greater role this year at point guard. Troy Brewer (2.7 PPG, 30% 3PT) is another option on the perimeter, but he saw very limited action as a freshman.
Schedule
The schedule has never really been a point of pride under Felton, but it's more ambitious this year. The Dawgs are participating in the Preseason NIT, and the quality of competition will depend on how far Georgia advances. Purdue, Oklahoma, Boston College, and Davidson are all potential opponents. There will be the usual early season cupcakes, but there will also be games with Illinois, Virginia Tech, Missouri, and Georgia Tech. We should know plenty about this team before SEC play begins.
Speaking of SEC play, the Dawgs will measure up early on against its SEC East peers. The first three conference games include Tennessee and Kentucky with a road game at Vanderbilt squeezed between them. One late road trip could prove problematic: two of Georgia's last three conference games are at Arkansas and Kentucky. If the season comes down to needing some wins late in the year, it's usually tough to get them in Fayetteville and Lexington.
The SEC
It projects to be on the whole another weak group of SEC teams, and what strength the SEC has is heavily tilted towards the East. Tennessee and Florida are the only SEC teams in the preseason top 25. Kentucky and Vanderbilt also get mention. LSU and Alabama are unranked but receiving votes, and that's about as good as it gets for the West.
What's noticable this year is a real lack of star power. There are some great players in the league, but there is no Chris Lofton or Shan Foster. The top five players in the SEC might be Nick Calathes, Devan Downey, A.J. Ogilvy, Patrick Patterson, and Tyler Smith – again, all really solid players but none comes with the superstar package.
Injuries
As we mentioned above, freshman Ebuka Anyaorah is out for the year. Several other players are dealing with minor, though nagging, injuries entering the season. Thompkins has battled a stress fracture, a knee sprain, and now a sprained ankle, and it has impacted his conditioning. He is not expected to play in the season opener. Jeremy Price and Chris Barnes each had offseason surgery, and Barnes still isn't 100%. Albert Jackson went down with a scary injury in last week's exhibition, but it proved to be only a sprained ankle, and Jackson should be fine. Woodbury has had ankle issues of his own.
Outlook
Can Georgia get quality point guard play, and can anyone hit the three with any consistency? Those backcourt questions are keeping dampers on expectations and hopes for the team until answers can be found. Fans expecting a significant leap forward building on the end of last season might be disappointed. Losing the top two scorers leaves a big vacuum, and it's questionable whether or not the Dawgs can find the firepower to compensate. The preseason consensus again has Georgia fighting to remain out of the basement in the SEC's tougher division.
A lot will be expected of Woodbury in particular. He came on strong in the postseason last year, and he's one of the few players on this team who can generate offense inside and outside. If the perimeter game struggles, I wouldn't be surprised to see the Dawgs ask Woodbury to take on the role of the shooting guard at times. Whether that would mean a bigger look with three post players or sliding someone like Zlovaric or Leslie in at the 3 is a situational decision up to the coaches, but options like that have to be considered if, as expected, offense is slow to come from the smaller guards. Still another option is to play Ware and Swansey at the same time and let Zac try his hand at the shooting guard position.
Unless the backcourt surprises, success will require big nights from the frontcourt as well as transition opportunities created by defense and rebounding. The frontcourt can expect to face some compact zones until someone proves they can bust the zone from a deeper three-point arc.
I'll be thrilled…with an 8-8 or better finish in the SEC and an at-large bid to the NCAA Tournament.
I'll be disappointed…with anything like last season's 4-12 SEC regular season. It's way past time to move forward.
I expect…between 6-8 SEC wins and an overall win total somewhere around 16-18. I'd like to at least split the four games with Illinois, Mizzou, and the two Techs. They should at least win the first game of the NIT, and it will be a good test to see if this Felton team can do better away from home than some of his others.
I realize that my expectations don't call for an encore in the NCAA Tournament. The result is that we can likely expect the return of the same discussions about the future direction of the program which the tournament run helped to silence (temporarily) last year. It's generally accepted that the SEC Tournament title saved Felton's job, but did it buy him anything more than one more year?