Wednesday November 12, 2008
Basketball season tips off this weekend (we should have our season preview tomorrow), and that's all the excuse I need to post a picture of Kentucky's new basketball uniforms. The Wildcats have pretty much become to basketball attire what Oregon is to football uniforms, so these new unis should come as no shock. They manage to pay tribute to everything from Secretariat to deceased equipment manager Bill Keightley. Even the freaking shorts have special significance:
In addition, on Kentucky's white uniforms, a blue and white checkerboard swatch is centered on the waistband of their shorts and features eight individual "boxes." Emblazoned in seven of the eight squares are the numbers '48, '49, '51, '58, '78, '96 and '98, representing championship seasons for the Wildcats. The "empty" eighth quadrant serves as a reminder of the school's legacy and motivation for the current Wildcats to ensure another year is soon inscribed within it.
Touching. One more square and you could put Paul Lynde in the middle. Here's the new jersey: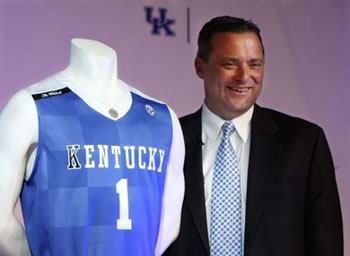 Kentucky's uniform experiments really took off in the 1990s. Here's a reminder of some of the best, most of which are modeled by Tony Delk.