Friday October 10, 2008
You've been reading a lot of this kind of sentiment this week. Chip Towers mentioned it earlier in the week. David Hale started a good conversation by noting that the players themselves seemed "reserved" during this game week.
OK, I sense it too. People are dragging. I admit that instead of wanting to get right back after it following the Alabama game, I was grateful for the bye week. The Arizona trip took a lot out of me personally, and it was even an adjustment for the players and coaches. Maybe we're all still just shaking it off.
Anyway, it's pretty clear that both the fans and team need something good to happen to snap them out of it. A win is what we're after, but what's really needed is that same energy and enthusiasm the fans and team had in Tempe. If you had to look to one guy to deliver that energizing bolt, I can't think of anyone better than Knowshon Moreno. A highlight-reel run early in the game from the player who challenges physics with his perpetual energy would be the wake-up call we've been needing since late September.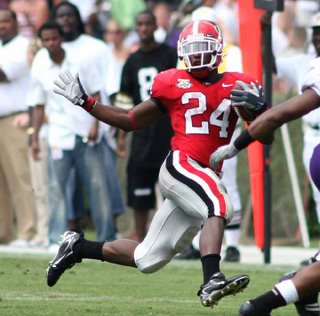 Who, me?