Monday September 22, 2008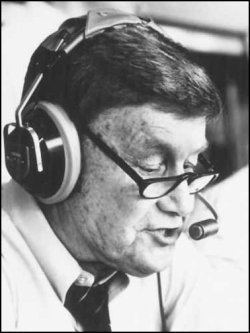 We knew this day would come, but we hoped it never would. Larry Munson is retiring; the Central Michigan game was his last painting the picture for Georgia fans.
Legendary University of Georgia football play-by-play announcer Larry Munson, who began broadcasting Bulldog games in 1966, has announced his retirement from the booth.

Munson has done only home games thus far this season and in 2007; however, he has decided that the Central Michigan broadcast on Sept. 6, was his last. The current road game booth crew of Scott Howard and Eric Zeier will finish out the 2008 season handling home and away games.

"I can't express enough my deep feelings toward the Georgia football fans," said Munson. "They have been so friendly especially during this most recent period of time. I feel I owe them so much more than I can give. I'll remember all the great times with the Dogs and have the fondest wishes and good luck toward them all."

"Larry made the decision over the weekend after consultation with his family, doctor, and close friends," said Michael Munson, Larry's son. "The Munson family would like to thank Cox Radio, the University of Georgia and the Georgia people who have been so supportive of Larry throughout his long career and especially the last several months following his surgery in April. Larry plans to celebrate his 86th birthday this weekend watching the Alabama game with family and close friends."

Michael Munson also indicated that after 60 years in broadcasting, Larry told him "There are lots of things I still want to do."

"I want to thank Larry Munson on behalf of this great university for 42 dedicated years of delivering the Georgia Bulldogs to fans on fall Saturday's around the world," said UGA Director of Athletics Damon Evans. "I truly appreciate his return at the start of this season from surgery to give us all another opportunity to hear him describe the tradition and pageantry of Georgia football as only he could do it. This is a day that we all knew would come for the Bulldog Nation, Larry Munson is and will always be a part of what is great about being a Georgia Bulldog."
Wearing black to Saturday's game just became a million times more poignant.