Friday September 5, 2008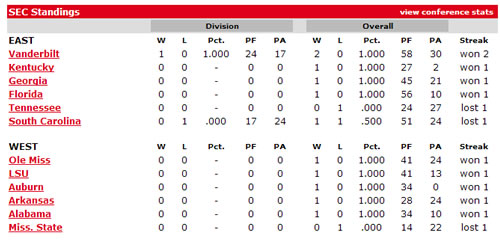 Congratulations to Vanderbilt. The Commodores are off to a 2-0 start and have an impressive road win and now a home win over a ranked opponent for the first time in a decade and a half. Neither were flukes, not even close.
After being stymied on offense in the first half, the Commodores feasted on South Carolina mistakes and flipped a 10-3 disadvantage into a 24-10 lead early in the fourth quarter. To South Carolina's credit, they came back and had a chance to tie, but they stalled inside Vanderbilt territory.
From the Georgia perspective, yes, it's always fun to see Spurrier go down, and it's doubly enjoyable to see Vandy deliver the first dose of reality to Gamecock fans. Still, Vandy is slightly better than usual (let's not overreact and build them up into what they're not), and we considered ourselves fortunate to get out of there with a win last October. They're not going to be much of a breather between Tennessee and LSU, and we know what happened the last time they came to Athens.
Is a win over South Carolina a given now? Hardly. We know how games go over there, and it's still likely to be close and low-scoring. Georgia has scored over 20 only once against South Carolina in this decade. Georgia should bring an offense better than any the Gamecocks have seen to this point, and you like the Bulldogs' chances of keeping South Carolina off the scoreboard again. A lot hinges on the hamstring of Kenny McKinley. South Carolina already looks pretty one-dimensional on offense, and if their best receiver can't go, it will only make things more difficult for a shaky QB position.
On November 29, Vanderbilt will close the season at Wake Forest. That might not be a dog of a game for once.