Friday August 29, 2008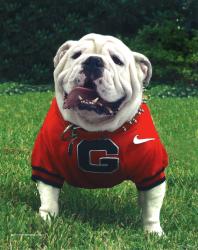 The official press release from UGA (click through to see more pictures):
The seventh in the Uga line of Georgia mascots will be introduced to the Georgia people on Saturday, Aug. 30, during pre-game ceremonies of the Bulldogs' season opener against Georgia Southern.

"Loran's Best" will officially become "Uga VII," when he is introduced for the first time to the Sanford Stadium crowd prior to the 12:34 p.m. kickoff. He will be escorted onto the field by members of the Frank W. "Sonny" Seiler family of Savannah who have owned the continuous line of mascots since Uga I took up the mantle in 1956.

Uga VII's coronation will become official when UGA President Dr. Michael F. Adams slips the new red leather spike collar over his head during the ceremony at midfield. He succeeds his father, Uga VI, who passed away in June of this year. Uga VII will be escorted onto the field by Charles Seiler and two Seiler grandchildren: Margaret Story and Sara Thompson.

At 56 and one half pounds, he'll be second only to Uga VI as the biggest mascot in the line. Seiler said he "has an excellent coat and bears a striking resemblance to his father."

"He's a great pet, already answers to his name, loves to travel and ride in the car," said Seiler. "He sleeps in his kennel in the den and is fed Hill's prescription maintenance dog food at 6 a.m. and 6 p.m. daily. Uga VII already loves to sit on the dock by the river and is ready for his first boat ride."

"Loran's Best" was originally named for long-time Georgia Athletic Association personality Loran Smith. Seiler said Uga VII has an entire new wardrobe made with the same material as the team jerseys.

Participating in the pre-game ceremony will be UGA Director of Athletics Damon Evans and the Georgia Redcoat Band. University Alumni Association president Trey Paris will also present a proclamation to the Seiler family honoring Uga VI and welcoming Uga VII.

Other Seiler family members on the field will be Frank W. "Sonny" and Cecelia Seiler, Swann Seiler, Wendy (Mrs. Charles) Seiler, Shannon and Bess Thompson and their children Tennyson and Seiler Thompson, Todd and Sara Story and their children Anna and William Story.

A video tribute to Uga VI will be shown on the stadium scoreboard prior to the official introduction of Uga VII.