Tuesday August 5, 2008
Preseason camp is all about position battles. Even with most of the starters set, there are a couple of key starting spots still up for grabs, and some of the more interesting position decisions will come further down the depth chart. Here's a look at some of the more interesting positional storylines we'll see this year.
Center: It's a bit scary when a sophomore is considered the candidate with the most experience. I'm not sure we appreciate how important the emergence of Fernando Velasco was to this team and to last year's green offensive line. Chris Davis, a converted guard, is the current starter, but all eyes are on true freshman Ben Jones. Jones enrolled for spring semester last year, so he's not a completely raw freshman, but his experience level is still the biggest knock on an otherwise promising player. Davis, a redshirt sophomore, is entering his third year in the program.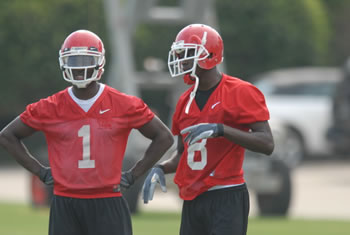 Massaquoi counsels Green (Radi Nabulsi / UGASports.com)
Receiver: Most are focused on the shiny new receivers Green and King, and they're already making a splash. But the questions at receiver go deeper and involve many more people than Massaquoi and the freshmen. You have last-chance seniors Harris and Goodman. You have Wilson, Durham, and Moore also trying to emerge into larger roles. Then there are redshirts Hill and Troupe. The big question is sorting out the starter after Massaquoi, but there will also be plenty of opportunities in other formations. With the running game in good hands and Stafford poised for a big year, the guys on the other end of the pass seem to be the biggest question in Georgia's improvement on offense.
Placekicker: It's Blair Walsh's job to lose. Much like 2004, a former walk-on will be replaced by a freshman on scholarship. That didn't work out particularly well last time, but Walsh seems like less of a gamble. His quotes so far have been full of confidence, and now he's determined to make #57 a kicker's number. Let's hope he's kicking mostly extra points for now.
Running back: It seems strange (and welcome) to write about the Georgia tailbacks without hearing indecisive things like "co-starter". Knowshon Moreno is the returning starter of course, but the rest of the depth chart is up for grabs. Most assumed that Caleb King would challenge for playing time as a redshirt freshman, but true freshman Richard Samuel has been getting a noteworthy amount of mention over the summer. Coach Richt has taken a curious liking to freshman Carlton Thomas who, for lack of a better comparison, could be considered the next Tyson Browning.
Quarterback: Even if Stafford and Cox are set at 1 and 2, the presence of Logan Gray makes things a little more interesting. The comparisons to D.J. Shockley can't be helped, but Gray's play at G-Day stood on its own. Whether or not he'll have his own package within the offense (doubtful), it is within reason that that he'll see more playing time than the typical third-stringer. It's unlikely that Richt will shake up the depth chart, but it will become a much bigger point of scrutiny if the backup has to see any kind of significant time this year.
Defensive line: You can't really argue with the expected starters (Battle, Owens, Atkins, Lomax), but what a problem it is when you're deciding what to do with players like Weston, Crawford, Irvin, and Wynn. Even those we haven't seen yet (Dobbs, Ball, Houston) are getting some mention. We know there will be a heavy rotation along the line; the challenge during preseason camp is sorting out that rotation.
Cornerback: Asher Allen seems set, but does Prince Miller or Bryan Evans get the other spot? This competition has been going on for a few years, and neither has settled it yet. Ramarcus Brown wants to be a part of this conversation too, but he's running out of time.
One thing we should know from this staff is that they're never in any huge hurry to make these decisions. Some could linger on into the month and even into the season. Besides performance during practices and scrimmages, outside factors like injuries and suspensions will have a role. For example, Darius Dewberry's suspension has opened up a spot (however temporary) on the two-deep for true freshman Christian Robinson.
As far as injuries go, they're inevitable – the only questions are "who?" and "how bad?". Georgia has been relatively fortunate in this area during the past few preseason camps, and that trend needs to continue this year to remain a contender. If some amount of injuries are a given, all you can do is hope that the severity of those injuries is measured in days instead of weeks or months and that the word "tear" is only used to describe what A.J. Green is doing to the field on pass plays. For now the most serious injury facing the team is Brannon Southerland's foot, and he's expected to return a few weeks into the season.