Thursday July 31, 2008
I'm not sure which Georgia fans Mark Bradley is talking about. What in recent history has given Georgia fans a reason to take the Tech game lightly?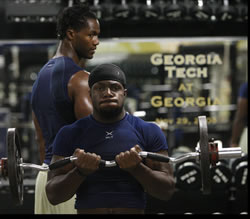 Don't worry guys…we'll be ready.
2004: An injured David Greene has to come off the bench to get the win. Still, it took the infamous 4th down blunder to seal it.
2005: A tie game was broken in the final minutes when Shockley found McClendon on a bee-yoo-tiful play action pass. Again, it took a play by the Georgia defense (INT by Jennings) to escape.
2006: Touchdown! Touchdown! Touchdown! Touchdown! Massakwa. The pull-a-fumble-from-the-pile touchdown will ranks as one of the all-time WTF?!? plays in the rivalry.
2007: The widest margin of victory since 2003, but it was a 2-point game at halftime and took Thomas Brown's 4th quarter score to open it up.
If it comes down to Tech standing in the way of a BCS bid, Georgia and Georgia fans will be plenty ready and into the game. Even if that scenario comes to pass, will the attention on Paul Johnson and his offense overshadow a more important key to the game?
In these rivalries, we tend to focus on personalities, and that sometimes leads us to look at the wrong things. Sometimes not – Cutcliffe really was a factor in some frustrating losses to Tennessee. But take Florida. We obsess over Spurrier, Meyer, and Tebow, but Georgia's biggest problem against the Gators lately has been on the other side of the ball. While everyone frets over stopping the offensive geniuses, breaking 20 points has been the real challenge in Jacksonville. Though Georgia is 3-15 against Florida since 1990, the series is 3-3 (with Georgia winning three of the last four) over the same period when Georgia scores at least 20.
The same applies and I think will continue to apply to Tech. For a while, it was all about Calvin Johnson, but Georgia was barely able to scratch out 14 and 15 points. The four times Georgia has managed 30+ in the current seven-game winning streak, they've beaten Tech by at least 14 points.
Now we're on to Paul Johnson and dwelling on the impact he'll have on the Tech offense. Bradley reaches back to 2005 to note Georgia's difficulty with the spread option against West Virginia, but Georgia did adjust and allowed only ten points over the final 44 minutes of the game. Additionally, Georgia will have seen at least three teams (LSU, Florida, and Auburn) who will run elements of an option offense. The flexbone isn't the same as the spread option of course, but they test defenses similarly.
So while Paul Johnson is a quality and accomplished coach with an effective contrary offense, yada, yada, yada, recent history tells us that if Tech is going to end the streak any time soon, Dave Wommack will have as much or more to do with it than Johnson.