Thursday June 26, 2008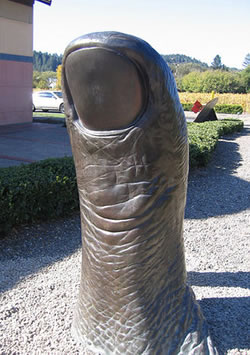 Earlier this morning, Steve Detwiler's thumb was removed by surgeons in Omaha and replaced with a prosthetic. The thumb is currently en route to Lubbock, Texas where it will be featured next to the monument already in place at the College Baseball Hall of Fame.
We've seen individuals break Georgia's heart before. Dan Marino. Mark Prior. Ronnie Daniels is still running. And of course there's John Wallace.
But few have had such a dominant individual performance against a Georgia team with so much on the line as Fresno State's right fielder Steve Detwiler. Fresno posted six runs against Georgia, and every single one of them was knocked in by Detwiler. His performance was so incredible and so unlikely that it overshadows a clutch pitching job by Justin Wilson. Under any other circumstances, the ability of Wilson to come off of three days' rest and contain a Georgia offense that had scored 17 runs in two previous games would have been the story of the night.
Congratulations to Fresno State. A team that beat Long Beach, San Diego, Arizona State, Rice, North Carolina, and Georgia to get to this point is as legitimate as a champion gets.
There's no use breaking down the game. The season is over, and the second-best season in Georgia baseball history deserves the focus now. This team rebounded from a rough early stretch to win the SEC, end Georgia Tech's season, take the season series over Tech yet again, and roll to the program's best postseason finish since 1990. There was individual excellence and key role players. There were dominant performances and clutch comebacks.
If history is any indication, the good news was that this title run probably won't be a one-shot deal. Georgia baseball is competitive nationally and has been that way for most of this decade. The personnel losses will be significant just as they have been after each of Georgia's three previous trips to Omaha since 2001. Recruiting is strong, and coaching is solid, so the safe bet is for Georgia to be back in this position sooner than later.
The immediate challenge for Coach Perno is to smooth out the valleys. A return trip to the NCAA Tournament, even as a lower at-large seed, is what we're talking about here. With guys like Poythress, Cerione, Allen, McRee, and Weaver due to come back, a strong an experienced core is there. Georgia must replace not only gloves and bats but leaders also, and finding the guys who will challenge their teammates to demand better of themselves as Ryan Peisel did earlier this season will be as important as finding a new leadoff man or closer.
If there's any kind of silver lining in the constant attention to the "Cinderella" storyline this week, it's this realization: Georgia teams are expected to play for titles. Georgia being in Omaha is dog-bites-man. Situations where we are the great underdog story are rare (see: men's basketball), but that's what happens when you have one of the nation's strongest athletic programs. After Hawaii and Fresno you might be getting a bit tired of being the foil to the media darling, but remember that the story of the underdog is great because it is the exception. This loss stings, but Georgia teams will be back competing for titles in just a few months.