Wednesday June 11, 2008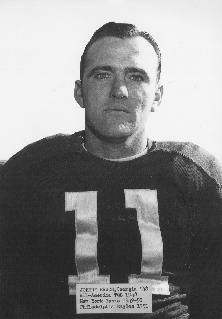 Before Fran Tarkenton, Buck Belue, Eric Zeier, David Greene, Matthew Stafford, and all Georgia quarterbacks in between, there was Johnny Rauch. Rauch set the standard for quarterbacking for college football in the late 1940s, and he went on to a successful career as a pro quarterback and as a coach. He passed away on Tuesday at the age of 80. From the obituary at georgiadogs.com:
Former University of Georgia All-America quarterback John Rauch, who started every game for the Bulldogs from 1945-48, passed away in his sleep on Tuesday at his Oldsmar, Fla., home. He was 80.

Rauch came to Georgia in 1945 after excelling in three sports in high school in Pennsylvania. He didn't arrive with much fanfare, however, and was discovered by then-Coach Wallace Butts while playing in a flag football game.

After accepting an invitation from Butts to come out for football, Rauch started every game (45 in all) of his college career from 1945-48 and became the first player in NCAA history to start four consecutive bowl games. He passed for 4,044 yards, then the NCAA record for career passing yardage.

Rauch led the Bulldogs to a 36-8-1 record, including the Williamson poll's national championship in 1946 and two SEC titles. He was an All-American and the SEC Player of the Year his senior season.

Rauch was the No. 1 player taken in the 1949 NFL draft by the Detroit Lions and he went on to a four-year playing career. Rauch then entered the coaching ranks, serving several schools, including Georgia from 1955-58, as an assistant coach.

Rauch returned to the NFL as an assistant for the Oakland Raiders under Al Davis in 1963 and was promoted to head coach in 1966. He guided the Raiders for three seasons, compiling 33 victories and leading them to Super Bowl II. Rauch, whose assistant coaches included John Madden and Bill Walsh, was named AFC Coach of the Year in 1967 after the Super Bowl appearance. Rauch also was the head coach of the Buffalo Bills in 1969, O.J. Simpson's rookie year.

Rauch completed his coaching career in 1985 after stints with Philadelphia, Atlanta and Tampa Bay of the NFL, Toronto of the CFL and Tampa Bay of the USFL.

Rauch was inducted into the College Football Hall of Fame in 2004. He also was chosen for the Georgia-Florida Hall of Fame in 2000 and Georgia¹s Circle of Honor in 2001.
His grandson also posted a nice note on the DawgVent. Our thoughts go out tonight to the family of one of Georgia's best.