Friday June 6, 2008
When NC State deposited two Trevor Holder pitches over the fence in the top of the 3rd inning in Friday's opening game of the Athens Super Regional, I had a flashback to the opening game of the 2006 Athens Super Regional. South Carolina hit five consecutive home runs in the second inning and jumped out to a 9-0 lead on the host Bulldogs. In the 2008 opener, three straight Wolfpack batters – including the #9 batter – hit deep shots, and two found their way out of the park. It wasn't looking good for Holder who recently struggled with shoulder problems and had a so-so regional.
But the right-handed junior wasn't about to allow a repeat of 2006. On the day he found out that he was drafted in the 10th round of the MLB Draft by the Florida Marlins, Holder buckled down, got out of the 3rd, and went another 5 2/3 innings without allowing another earned run. The Bulldogs quickly answered those two runs and went on to a convincing 11-4 win over the Wolfpack. Holder ran out of gas just one out away from his first complete game after giving up 7 hits, 2 runs, and recording 5 strikeouts. Justin Earls came in to record the final out.
Prior to Friday's game, the Wolfpack hadn't allowed more than ten runs in a game since a March 14th loss to Miami. Starter Clayton Shunick was dominant at times, but Georgia took advantage of two weak innings to do their damage. The Bulldogs scored four times with two outs in the bottom of the 3rd, and they chased Shunick with five more runs in the 6th. Matt Olson and Gordon Beckham got the Dawgs going with key two-out hits in the 3rd, but the bottom of the order once again was a big part of the story. Lyle Allen, Miles Starr, and Joey Lewis combined for 5 RBI including a two-run homer by Lewis.
That 2006 Super Regional had a lesson: even if you get your tail kicked, you start out 0-0 in the next game. Georgia bounced back that year to win two straight over the Gamecocks and advance to Omaha. Friday's opening win by Georgia puts them in great shape just one win away from the CWS, but they're not there yet. The good news for the Bulldogs is that they have everything going for them right now – they'll have a fresh bullpen, a partisan crowd, and the bats show no signs of cooling off.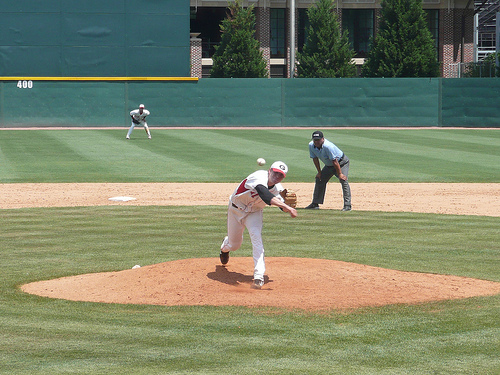 Trevor Holder with the strong outing.