Friday May 30, 2008
The Athens regional kicks off today with Georgia playing Lipscomb at 3:00. It should be a wild weekend: three of the four teams made the trip to Omaha in their last postseason appearance. Here's a link dump of news and info:
Media
Television: CSS
Radio: 960 AM in Athens. 91.1 PM in Atlanta will have at least the Tech broadcast.
Online: Free audio and live stats here.
News
Tickets
Single game tickets to attend the NCAA Baseball Athens Regional will go on sale starting at 1:00 p.m. Friday, May 30 at Foley Field. Single game ticket sales locations will be set up in the Foley Field Plaza, along the third base side on Rutherford Street and at the entrance to right field bleachers on Pinecrest Street.
Reserved Seat tickets are $12 and general admission tickets are $10.
Single game tickets will also go on sale at the Foley Field ticket locations beginning two hours before the first game each day.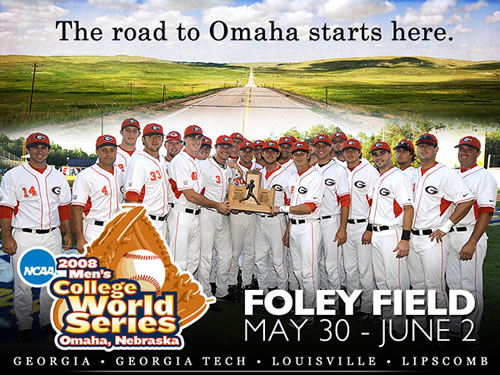 Image: Georgiadogs.com