Tuesday May 20, 2008
The night didn't start well for the defending champions, but Georgia's depth and experience shone through as the Tennis Dawgs came back to beat Texas 4-2 in the national championship Tuesday evening in Tulsa. The title was Georgia's first at a host site other than Athens, and it's the first back-to-back titles in the program's storied history.
For the second straight round, Georgia dropped the doubles point. They also dropped the first singles match at #6. Facing a 2-0 hole, Georgia quickly bounced back with wins at #2 and #4 to level things at 2-2. From that point Georgia's seniors took over to sustain the momentum and clinch the title. Luis Flores wrapped up his match at #3 without much drama to give Georgia the 3-2 edge.
The championship came down to #1 singles where former Longhorn Travis Helgeson had dropped the first set and was down a break at 1-2 in the decisive third set. Helgeson battled back, won four of the next five games, and broke his opponent twice to go up 5-3. As soon as Flores' match ended, attention shift to Helgeson up 5-4 and serving for the win. He closed out Dimitar Kutrovsky 6-4, and the celebration was on.
The Dawgs were ranked high all year, and they had a ton of talent, so it's not like this title came from out of nowhere. Still, Georgia was hardly the odds-on favorite after losing players like John Isner and Matic Omerzel. The favorite doesn't always win: a heavily-favored Georgia fell to Pepperdine in 2006, and the Dawgs dispatched this year's top-ranked team, Virginia. Georgia got key performances from its most experienced players, and the team's depth helped them weather some midseason injuries and win important singles points further down the lineup. In the end, the black did it again.
Georgia's championship will be re-aired on ESPN2 at 3:30 p.m on Thursday May 22.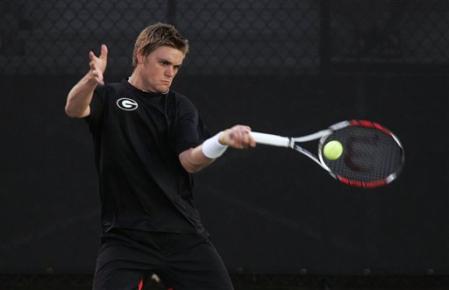 Travis Helgeson in his decisive match. Photo: AP