Tuesday May 13, 2008
When Brandon Coutu was selected late in the seventh round of the 2008 NFL draft, he became the 40th Bulldog from a Mark Richt team to be drafted. Since 2002 Georgia has had as many as eight and no fewer than four players taken in each draft. There have been six first round selections, but only one Bulldog (Tim Jennings) has been drafted in the first or second rounds of the three most recent drafts.
2002 (8 total):
First round: Charles Grant
Third round: Will Witherspoon
Fourth round: Randy McMichael, Terreal Bierria
Fifth round: Jermaine Phillips, Verron Haynes
Seventh round: Josh Mallard, Tim Wansley
2003 (7 total):
First round: Jonathan Sullivan, George Foster
Second round: Boss Bailey, Jon Stinchcomb
Third round: Musa Smith
Sixth round: Tony Gilbert
Seventh round: J.T. Wall
2004 (4 total):
First round: Ben Watson
Second round: Sean Jones
Fourth round: Robert Geathers, Bruce Thornton
2005 (6 total):
First round: Thomas Davis, David Pollack
Second round: Reggie Brown, Odell Thurman
Third round: David Greene
Fourth round: Fred Gibson
2006 (7 total):
Second round: Tim Jennings
Third round: Leonard Pope
Fourth round: Max Jean-Gilles
Fifth round: Greg Blue, Demario Minter
Sixth round: Kedric Golston
Seventh round: D.J. Shockley
2007 (4 total):
Third round: Quention Moses, Charles Johnson
Fourth round: Martrez Milner
Sixth round: Charles Shackleford
2008 (4 total):
Fifth round: Marcus Howard
Sixth round: Thomas Brown
Seventh round: Chester Adams, Brandon Coutu
Defensive Line U.
To no one's surprise, the Bulldogs have cranked out defensive linemen and defensive backs like few others. Nearly half (18) of Georgia's 40 picks have come from those two units. The overall offense / defense split isn't as drastic as some might expect (17 vs. 22), but the difference is in the first two rounds: eight defensive picks versus four from the offense. Given their relatively limited role on the field, it could be argued that Georgia has been most productive in terms of draft picks at the tight end spot.
Quarterback: 2
Tailbacks and fullbacks: 4
Tight ends: 4
Receivers: 2
Offensive linemen: 5
Defensive linemen: 9
Linebackers: 4
Defensive backs: 9
Kickers: 1
Stating the obvious
The past three drafts haven't been as kind to the Bulldogs. From 2001 through 2005, the Bulldogs had at least one first round pick. They haven't had one since, and Tim Jennings in 2006 has been Georgia's only selection from the top two rounds since 2005. This slump is very likely to change as soon as the 2009 draft, but the results of the 2007 and 2008 drafts help to illustrate that there was more to the struggles of 2006 into 2007 than just the quarterback transition. It's impressive that Georgia has sustained a high level of play over some lean draft years, but when you look over the national champions of the past few years high draft picks figure prominently. Having a few first round picks doesn't necessarily lead to titles, but the inverse is usually true.
Draft Picks 2002-2005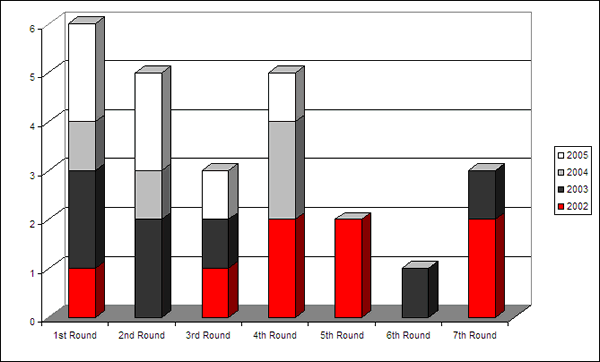 Draft Picks 2006-2008