Sunday March 16, 2008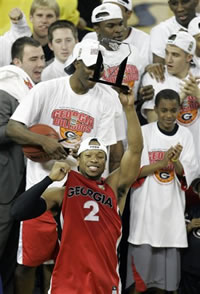 Just saying it plainly does the job: Georgia beat Arkansas to win the SEC men's basketball Tournament, cutting down the nets on Georgia Tech's home court after a tornado forced the tournament to relocate from the Georgia Dome.
Georgia's basketball team – the same one that wrapped up a 4-12 regular season in conference – just won the SEC Tournament and is on the way to the NCAA Tournament for the first time since 2002. There's simply no historical perspective that applies. The Dawgs were the first #6 seed to even make the finals since conference expansion in 1992. It was Georgia's first tournament championship since 1983.
Sundiata Gaines will no longer be remembered as a gritty, tough player and outstanding point guard. Oh, no – we're way past that now. He is now a Georgia basketball legend. Leading this team to the tournament title – and calling the shot before the tournament started – is the stuff they write movies about. Georgia's leader in minutes played looked broken and coasting on fumes midway through the second half of the championship. Somehow he found the legs to lead Georgia on an 11-2 run that provided just enough margin to hold off the Razorbacks when they looked poised to run past the exhausted Dawgs.
Make no mistake, this is the same team we saw all year, and now they're champions and still playing. For some reason, for the first time in recent Georgia basketball history, Old Lady Luck was on Georgia's pass list at the ticket window.