Friday March 14, 2008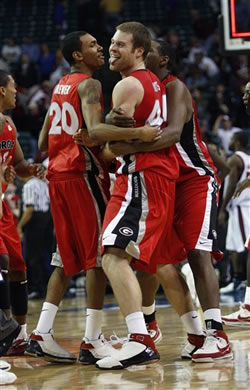 Photo: AP
When's Ole Miss gonna beat somebody?
What an incredible, gutsy effort by the Dawgs tonight. With nothing to lose, they took a 97-95 overtime thriller against an Ole Miss team that had to win in order to keep their NCAA hopes alive. The Rebels, with their season and postseason on the line, fought back the entire game, erasing a first half deficit and an even larger second half deficit. They wouldn't quit down 5 with just over 30 seconds remaining. It wasn't until the improbable Butler-to-Bliss combination accounted for the final basket with 0.4 seconds left that the issue was decided.
It was the same Ole Miss team that broke Georgia in the second half in Athens less than a week ago and had their way with the Bulldogs in the paint. It was a different story tonight – Georgia's interior defense, led by Dave "Dikembe" Bliss, stood firm and this time kept the Rebel frontcourt from taking over. Dwayne Curtis was big with 26 points, but Georgia did a much better job on frontcourt mates Jermey Parnell and Kenny Williams. 7-of-11 three-point shooting from David Huertas kept Ole Miss in the game and helped them recover from a 13-point second half deficit with an 18-2 run.
Bliss had an impressive five blocks to help on the defensive end, and he added nine points on offense. Five of those points came in overtime, and all were significant. Bliss's first overtime points came with a little more than a minute left. Georgia fell behind by four in overtime and looked, well, spent and beaten. The nature of the end of regulation had to sap the life from them. But they got a basket and a defensive stop, and then Terrence Woodbury found Bliss alone down low. Bliss hit the shot, got fouled, and converted the free throw to give Georgia the lead.
His final shot was even bigger. With just over 5 seconds left, Corey Butler took an inbounds pass and drove down the left side, drawing the only defender. But Butler found a wide open Bliss on the right low post, fed him a perfect pass, and Bliss calmly sunk a short shot off the glass for the win. Bliss had not one but two of SportsCenter's Top 10 plays tonight, and he can collapse into bed knowing that one of his final games as a Bulldog might have been his best.
When you look at Sundiata Gaines' line, you might say that he had a sub-par game. He shot 5-of-14 from the floor and just 1-of-5 behind the arc. He had three turnovers and "only" five rebounds. And then your eyes are drawn to the free throws. Gaines, not even shooting 60% from the line on the year, drained 11 of 13 chances from the free throw line, and many of those shots came down the stretch with Georgia trying to preserve a lead. Though the rest of his stats might not have been up to his standards, he was big when it mattered.
For all that Bliss and Gaines did to lead the team to the win, it would be wrong to place credit solely with the seniors. The entire team fought their asses off. Woodbury poured in a career-high 25, beating the season high he set just days ago against Ole Miss. Several of Wood's points came at key moments in the second half when Ole Miss made their run. Billy Humphrey was absolutely clutch down the stretch with 8-of-8 free throw shooting. Albert Jackson added 10 points and 2 blocks. Corey Butler had the presence of mind to run and execute the final play that had been drawn up for Gaines, and he delivered the ball to Bliss with perfect timing.
The exhausted Bulldogs have to face Kentucky on Friday, and the Cats are rested and surely primed to make some noise in the tournament. But Georgia has played Kentucky nearly even both in Athens and in Lexington, and the Wildcats are without Patrick Patterson who scored a combined 36 points in the two earlier meetings. Just find a way to check Joe Crawford, and Georgia could have a chance. The Dawgs have already crushed one team's tournament hopes, and they could put a serious dent in the hopes of a second team tomorrow.