Saturday March 1, 2008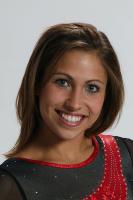 Junior Courtney Kupets, arguably the best collegiate gymnast in the nation, tore her her Achilles tendon during Saturday's home meet against Arkansas. The Gym Dogs won the meet easily, posting their highest team score of the season. Katie Heenan scored a perfect 10.0 on the vault to lead the way.
In her time so far at Georgia, Kupets has been two-time all-around national champion, five time individual NCAA champion and 10-time All-American. She also has a team silver and individual bronze medal from the 2004 Olympics.
We wish Courtney the best as she recovers from the latest in a mind-numbing number of injuries for such a young athlete. Collegiate gymnasts are the "senior citizens" of the gymnastics world, and as Coach Yoculan said, "It's just years of wear and tear." It's true, but it's incredible when you realize that we're talking about a 21-year-old.
Georgia is the three-time defending national champion, and they'll have to pull together without one of their best in their pursuit of a fourth-straight national title.