Wednesday February 27, 2008
You probably remember that Georgia conceded the removal of the Sanford Stadium hedges in order to host soccer events for the 1996 Olympics. The field had to be widened at the corners to meet specifications, and the hedges were in the way.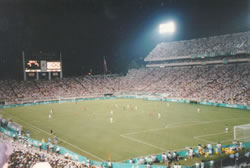 That decision produced a minor outcry, but officials reassured the public that replacement hedges would be grown offsite and ready. In fact, they claimed, the existing hedges were facing trouble from parasites and would need to be replaced anyway. With those assurances, Georgia fans were placated, and the new hedges did indeed grow back in thick and full…until the 2000 Tennessee game.
It looks as if they pulled one over on us.
At a recent roast for former Athens mayor Gwen O'Looney, the conspiracy that reached all the way to the top of the Athletic Department and University was revealed:
While supporters said (O'Looney) brought a new openness to government, she was a party to at least one white lie. Former University of Georgia President Chuck Knapp recalled bringing an Olympics official, "a Middle Eastern potentate," to Sanford Stadium to convince him to play soccer there at the 1996 Atlanta games.

The official loved the stadium, but there was a catch.

"There is one minor problem," Knapp quoted the official as saying. "You'll have to remove those bushes."

O'Looney, Knapp and former football coach Vince Dooley, after consulting UGA horticulturalists, made up a fib that nematodes, a parasitic roundworm, had struck the famous hedges, and they had to be cut down.
Apparently Dooley was still living the lie two years later at a University Round Table in 1998:
The athletic director recounted the uproar among alumni over the advent of women's Olympic soccer in the stadium and the quest to cure the hedges of killer nematodes infesting the famous privet.
"We sent a couple of nematode experts over there," he said. The hedges were removed and regrown with cuttings. "We replaced them with Hedges II," he said.