Thursday February 21, 2008
Two basketball programs – one a titan and one…not so much – have recently opened new showcase practice facilities with much fanfare. Each looks very impressive and should be assets to those programs both in player development and in recruiting. Since Georgia's own facility opened less than a year ago, it's worth taking a look at how Georgia's investment stacks up against Duke and SMU. Sure, $30 million is an impressive amount to put into a building, and the place looks great, but when you see Georgia's facility relative to similar projects, you really can appreciate the athletic department's commitment to these programs.
Note: Remember that Georgia's facility also includes significant space for the nation's top gymnastics program; not all of this investment is for basketball.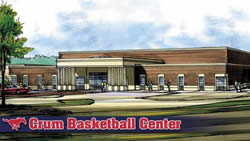 Cost: $13 million
Area: 43,000 sq. ft.
Dedicated practice courts for men's and women's programs: Yes
Connected to arena
Other: "Players' locker rooms and lounges, a fully-equipped training and rehabilitation room with in-ground hydrotherapy pools, a state-of-the-art strength and conditioning room, an on-site laundry facility, coaches' offices and conference facilities for both programs, coaches' locker rooms and film editing rooms"
Quotable: "This facility is as nice as any basketball facility in the country! I designed UNC's locker room, weight room and practice gym…..and "The Crum" is nicer!" – SMU coach Matt Doherty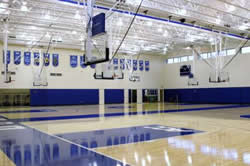 Duke: Michael W. Krzyzewski Center for Athletic Excellence
Cost: $15.2 million
Area: 56,000 sq. ft.
Dedicated practice courts for men's and women's programs: Kind of. The facility includes two adjacent full-sized courts.
Located next to arena, connected by underground tunnel
Other: Weight room, banquet room, academic support center, "legacy locker room" for former players, film rooms
Quotable: "We didn't cut corners but we didn't go crazy. We were able to be very efficient with our money and time." – Duke associate athletic director Mike Cragg
Georgia: Coliseum Training Facility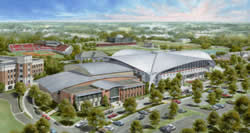 Cost: $30 million
Area: 120,000 sq. ft.
Connected to arena
Dedicated practice courts/space for all programs: Yes
Other: Locker rooms, training areas, student-athlete lounges, film rooms, coaches' offices, conference rooms, meeting/banquet space
Quotable: "Once we had drawings to show (recruits) that it would be a spectacular facility – it started to make an impression." – Dennis Felton
Which facility is the best doesn't really matter to me. I've been in Georgia's – it's incredible, and I'm sure that the others are visually stunning as well. What's important is that Georgia has given these programs an investment at least on par with a basketball program with the tradition, following, and fundraising ability of Duke.