Thursday January 24, 2008
Please, oh please, let this happen: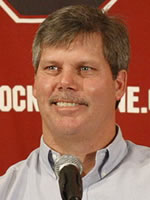 Sources have confirmed to CSTV that newly hired South Carolina defensive coordinator Brian VanGorder is likely to leave Steve Spurrier's Gamecocks and return to the NFL as the defensive coordinator of the Atlanta Falcons.
Brian Curtis of CSTV has the scoop. The Falcons hired Jacksonville defensive coordinator Mike Smith, and the two worked together when VanGorder left Georgia to become Jacksonville's linebacker coach after 2004 which was about seven jobs ago for VanGorder. VanGorder left Jacksonville after one year to take the head coaching position at Georgia Southern. From there – you know, I kind of lose track. I think he had a stint with the World League, briefly took over for the Atlanta Thrashers, and had begun taping a reality show on Food Network before Spurrier came calling.
VanGorder's four-week stay in Columbia would be kind of short even for him.
UPDATE: South Carolina's Rivals site confirms the news. "Sources close to the USC football program have confirmed to Gamecock Central that VanGorder will be named the new defensive coordinator for the NFL's Atlanta Falcons."