Thursday January 10, 2008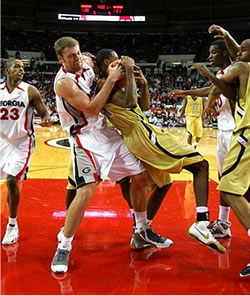 With the sole exception of the brief Takais Brown era, Georgia basketball over the past four years has been defined by the fortunes of up and down guard play. We seem to be back in that mode again this season. Fortunately the backcourt came up huge in a 79-72 win over Georgia Tech on Wednesday evening.
The Dawgs had four guards and wing Terrence Woodbury as their top five scorers. After a career-high 24 points against Gonzaga over the weekend, Billy Humphrey followed it up with another 23 points tonight. He shot a blistering 9-of-12 from the floor and, more importantly, continues to find his game inside the arc. Only three of Billy's attempts were three-pointers. Sundiata Gaines had another solid night with 16 points. Like Humphrey, Gaines shot 75% from the floor. As we've come to expect from Gaines, he was among the team leaders with six rebounds and had five assists against just one turnover.
Make no mistake, it was an ugly game. The score was 2-2 at the first TV timeout. The two teams missed 27 free throws between them. Both teams were guilty of some pretty stupid fouls. These aren't two teams with any delusions of greatness this year. But it was still Georgia-Georgia Tech, and it mattered to both teams as they prepared for conference play.
Georgia was able to gain some separation after the slow start and led by as many as 12 in the first half before going into the locker room up by 9. Tech made a pair of runs in the second half and eventually drew even at 51 midway through the half, but they were never able to take the lead. After Tech tied the game, another Georgia guard, walk-on Corey Butler, drilled a three-pointer. The Dawgs ran off seven in a row but were unable to put the Yellow Jackets away. Tech soon drew back to within two, and the Georgia lead ebbed and flowed for the rest of the game. Importantly, Georgia hit free throws – 9 of 10 in the second half at one point – and free throws proved to be a turning point in the game.
With just over two minutes remaining, Tech's Jeremis Smith missed two free throws with a chance to tie the game. Georgia center Dave Bliss was fouled on the rebound and drilled his two foul shots to put Georgia ahead by four. Corey Butler followed that up with another clutch three-pointer to extend the lead to seven, and that was all she wrote.
With the win, Georgia remains perfect at home against their rival since the series returned home-and-home in 1995. With Georgia's 75-70 win in Atlanta in 2000 the sole road victory in the series, the Dawgs now hold an 8-5 mark against Tech since the game returned to the campuses.
Coach Dennis Felton deserves recognition for a good personnel strategy. Georgia was able to find success with a smaller lineup that got three guards plus Woodbury on the floor. I'm sure part of the strategy was dictated by foul trouble among the post players, but it's getting hard to keep both Humphrey and Butler off the court. If this is how we're going to live and die this year, so be it. Felton is now 3-2 against Georgia Tech.
The Dawgs are finished with nonconference play and head to Starkville this weekend to open the SEC slate against Mississippi State. We've seen enough to know that the Dawgs will succeed or fail based on the play of Humphrey and Gaines, but what we don't know is how far that will take them in a weak SEC. Forgetting that for the moment, a win over Tech was big for Felton and the program if only to keep the fans behind the program heading into conference play. Great showing by the students.
Player of the game: Billy Humphrey. A second-straight big game. Consistency has been Billy's weakness, even tending to disappear for stretches, and he was money all night long in this game. Humphrey has feasted against Tech; he scored a team-high 19 in the 2005 win, and there's no better way to get in my good graces than to come up big against Tech. On top of all of that, he led the Dawgs in this game while playing through a sore left knee that had him questionable for the game in the first place.
Play of the game: Butler's three-pointer to give Georgia the lead for good at 54-51. It put Georgia on top to stay.