Wednesday January 9, 2008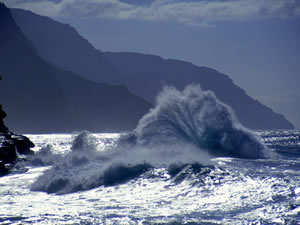 Beautiful…then comes the crash
If the Sugar Bowl was, as Colt Brennan said, the biggest Hawaiian event since statehood , the aftermath has been the biggest disaster to hit the state since…well, we won't go there.
First was June Jones' departure for SMU. Jones chose the scorched earth strategy on his way out of town by firing off a letter criticizing the athletic department for its lack of support. Only when SMU showed interest did Hawaii make an attempt to improve its commitment to the program, claimed Jones.
It didn't take long for athletics director Herman Frazier to be forced out, and of course speculation centers on that fact that Frazier couldn't pull several million dollars out of thin air to fund the Hawaii program to the level Jones wanted.
In the span of a week, the Hawaii program has gone from the feel-good "Bad News Bears" story of the 2007 season to smoldering ruins of a program. I was completely wrong last year when I thought that Boise State's 2005 loss to Georgia would result in lasting trauma for that program, but here I go again. The Hawaii program was on the brink of being dissolved when Jones took over, and it took his unique scheme to get some success from the limited talent base and limited resources available to him.
Receiver Davone Bess will head to the NFL, and of course Brennan is gone as well. There are definitely some quality players coming back, but one wonders how long the new coach will be able to keep things going. The Hawaii wave looks to have crested, and there's no telling now what gets washed up onto the rocks. It's kind of sad to see – there was something fresh and enjoyable about the state using the team as a point of cultural pride.