Tuesday December 18, 2007
In a move that's a little surprising, if only for the timing, quarterback Blake Barnes is leaving the Georgia program and will play his final season at Division II Delta State in his home state of Mississippi.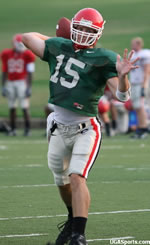 Blake Barnes
Photo: UGASports.com
Barnes has always been the subject of transfer rumors during his Georgia career. When it became clear early in 2006 that he was destined to be a career backup, fans wondered if he would head elsewhere for his final two years of eligibility. His decision to remain in Athens for the 2007 season gave the Dawgs three veteran quarterbacks, and it allowed them to redshirt promising freshman Logan Gray. As it turned out, the depth he provided wasn't a factor in 2007, and he only saw mop-up duty in the Western Carolina game and didn't attempt a pass.
Barnes entered Georgia as one of the standouts in the 2004 recruiting class. In August we discussed how Barnes was part of a trio of quarterback prospects considering Georgia that included Oklahoma State's Bobby Reid and Texas Tech's Graham Harrell. Landing Barnes was somewhat of a coup – he was considered among the top ten pocket passers in the nation by Rivals.com right up there with guys like Harrell, Longshore, Glennon, and Ainge. As a high school senior, he was named the Gatorade Mississippi player of The Year.
He was the first high-profile quarterback signed by Georgia with an eye towards the post-Greene and Shockley era, but the subsequent signings of Joe Cox and Matthew Stafford clouded the order of succession. With Gray added into the mix for 2008, the prospects for playing time are even slimmer.
At Delta State, Barnes will have to beat out a returning starter. He'll remain with the Dawgs for the Sugar Bowl, and one wonders if he'd get the nod if the situation presented itself late in the game. We thank him for his contributions to the Georgia program, and we wish him well back home.